Location
On the south wall of the nave, at the western end.


Description
This memorial is in very poor condition and is almost illegible. The inscription is taken from the 1873 Guide to the Church.


Memorial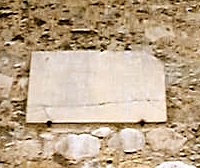 31 St Thomas's St.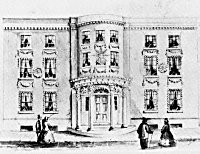 Sir Frederic Madden
Inscription
TO THE MEMORY OF CAPTAIN WILLIAM JOHN MADDEN
ELDEST SON OF JAMES MADDEN, ESQUIRE
OF COLCHILL HOUSE, FULHAM, MIDDLESEX
AND BROTHER OF MAJOR GENERAL SIR GA MADDEN
BORN 26TH OCTOBER 1757, DIED 3RD MAY 1833
ALSO IN MEMORY OF SARAH, WIFE OF CAPT. WJ MADDEN
AND DAUGHTER OF THE REV ARNOLD CARTER MA
MINOR CANON OF ROCHESTER CATHEDRAL
BORN THE 21ST JUNE 1759, DIED 8TH MAY 1833

Further Information

Captain William John Madden served for many years as Paymaster for the Royal Marines and later used his expertise to help with the financial affairs of fellow officers. This was sufficiently successful to enable him and his wife Sarah to purchase 31 St Thomas's Street, Old Portsmouth for £3000 in 1800. Madden was a devotee of the game of cricket, often playing in teams representing Portsmouth. William and Sarah already had a large family when they moved to St Thomas's St. where they had several more children. They continued to live in the house until both he and his wife died within a few days of each other in May 1833.

Their eldest child Elizabeth, known as Eliza, was born in 1781 and remained unmarried throughout her long life. After the house at St Thomas's Street was sold in 1833, she moved to 10 High Street, which still stands, and later to No. 11½ which is now part of Buckingham House, scene of the assassination of the Duke of Buckingham. She died aged 82 in in 1863.

The eldest son was Lewis Pryse Madden, born 1783, died 31st March 1839 at Clifton, Bristol. He had formerly been a Lieutenant in the Royal Marines, serving almost 20 years in the French Revolutionary Wars. He had married, first, on 10 March 1811, at Bath, Caroline, daughter of John Marsh of Woodhouse, Gloucestershire. Their two children, Caroline Lucy and Lewis Powell Madden, were born at Bath Easton (on 7 May 1819 and 5 March 1822 respectively). Caroline died at Clifton on 14 July 1835 but was buried at Bath Easton. Lewis remained a widower for under a year. On 5 May 1836, at St Martinís in the Fields, London, he married his first cousin Margaret Jordan, the widow of the Reverend Wilfrid Carter. Though the second Mrs Madden lived until 1861, this union was cut short by his own death just under three years later. Much of Lewis Maddens retirement had been taken up by the then new practice of brass rubbings at which he had become quite expert. His younger brother Sir Frederic Madden spent much effort on securing a collection of these rubbings for the British Library (See "Sir Frederic Madden and the Battle of the Brass Rubbings" at the British Library).

Younger daughters, Emma who was born in 1806 and died in 1844, and Anna Maria are known to have joined Eliza at 10 High Street after leaving St Thomas's Street.

The seventh son, Frederic, later, Sir Frederic Madden, was born at St. Thomas's Street on 16th February 1801. He went on to become one of the most renowned archivists of his day and was for 29 years Keeper of the Department of Manuscripts at the British Museum. Although he left Portsmouth when he was 24 years old he retained close ties with the old town and through the rest of his life assembled an awesome archive of historical material relating to Portsmouth in particular and Hampshire in general. In this he was aided by other renowned Portmuthians Lake Allen and the artist RHC Ubsdell. He also corresponded, less agreeably, with the historian Henry Slight whom he described as incompetent. In the last years of his life Sir Frederic regularly corresponded with Archdeacon Wright, offering his guidance on the restoration of the Garrison Church.

It is unfortunate that Portsmouth has never fully acknowledged Sir Frederic Madden's role in preserving much of it's history, there being no memorial or other public symbol of his achievements. He did however leave much of his archive to the Record Office and Museum where it may still be viewed.

For an account of the life of Sir Frederic Madden, see "Sir Frederic Madden and Portsmouth" by John Webb published as Portsmouth Paper No. 47 by Portsmouth City Council

See also, the memorial to Captain Madden's brother Major-General Sir George Allan Madden.

It is not known who purchased 31 St Thomas's Street in 1833, but we do know that in 1846 it passed into the hands of Richard and Emma Ford. Prior to the purchase of the house by the Maddens it was the residence of William Sloane, brother of Sir Hans but it was also connected to the trial of Admiral Keppel.