Location
The plaque is on the back of one of the choristers stalls in the chancel.
South side, back row, nearest to the west end.


Memorial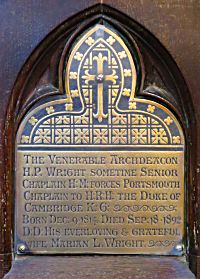 Portrait (In the Crimea)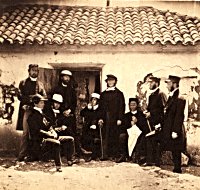 Portrait of Archdeacon Wright (seated
left) and other Chaplains, 1855
From the Roger Fenton Catalogue
The Library of Congress
Rep.No. LC-USZC4-9192


Portrait (At Home)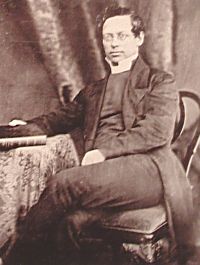 Inscription
THE VENERABLE ARCHDEACON
H.P.WRIGHT SOMETIME SENIOR
CHAPLAIN H.M.FORCES PORTSMOUTH.
CHAPLAIN TO H.R.H. THE DUKE OF
CAMBRIDGE K.G.
BORN DEC 9 1814 DIED SEPT 18TH 1892
DD: HIS EVERLOVING AND GRATEFUL
WIFE MARIAN L. WRIGHT

Further Information

Since Archdeacon Wright wrote the 1873 Guide to the Church and didn't die until 1892, it is not surprising that there is no commentary on this plaque in the Guide.

The plaque to Wright on the choristers stalls is one of two that were added in the 1890s. Originally 42 stalls were adorned with the plaques, the place where the last two were added was then a doorway to the belltower. This had gone out of use by the 1890's and the church authorities decided to block up the entrance with two more matching stalls. Since Wright had been so much of an influence in the erection of the stalls in 1871 it was decided that his name should be on one of the additions.

The plaque is erected by Wright's second wife Marian, whose information about her husband is at variance with that from other sources. The dates of both his birth and his death are different from the source quoted below. No further record of his second marriage is available, apart from a history to St John the Baptist's church in Greatham which says Wright was buried in the old churchyard with his "first" wife.

According to other sources, Wright was born in India on December 9, 1816. He attended Durham and Cambridge Universities and was ordained in 1842. He served as Senior Chaplain to the British Army during the Crimean War. He served as Archdeacon of Columbia from 1861 to 1865, Archdeacon at the Garrison Church from 1866 to 1876 and archdeacon of Vancouver Island from 1877-1880. He became rector of St John the Baptist Church, in Greatham, Liss, Hampshire in 1880. He had married Anne Nalder in 1843. The Nalder family took the patronage of Greatham in 1882. Between 1889 and 1891 nine stained glass windows were installed and dedicated to members of Wrights family. Wright died on September 10, 1892 and is buried in the old Churchyard with his first wife, Anne.

See also the plaque to Wright's brothers which was formerly in the church.

EDITORS NOTE: We are very keen to establish the whereabouts of Wright's personal papers, particularly any journals covering his period at the church, and would be grateful for any information about them.