Location
At the English Heritage store, Fort Brockhurst, Gosport [EH Ref No. 87900124]


Description
The memorial is made of metal and is in poor condition.


Memorial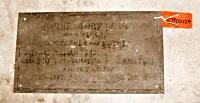 Inscription
TO THE GLORY OF GOD AND IN MEMORY OF
MY FATHER AND MOTHER RICHARD WILLIAM FORD,
CLERK OF THE PEACE - PORTSMOUTH.
EMMA FORD, WHO FELL ASLEEP
8TH. SEPT 1900 AND 16TH. OCT. 1892.
D.D. ARCHIBOLD 1902

Further Information

This plaque was originally sited on the pillar immediately to the north of, and level with the top of, the pulpit.
[Ministry of Works plan dated 2/10/1942]

Richard William Ford was born in Queen Street, Portsea on 9th January 1822 to parents Henry Ford (1789? - 1870) and Harriett (Nee Rogers 1794/5 - 1870). He left school at 15 and was articled to a solicitor, Archibald Low of St George's Square. In 1843 he joined his elder brother Henry in partnership and together they prospered. In 1844 he married the daughter of his former sponsor, Emma Low who bore him 10 children, 7 of whom survived to adulthood. They live at 31 St Thomas' Street.

In 1849, Richard became Secretary of the newly formed New Steam Boat Company and a year later became Councillor for St Thomas' Ward. He was elected Guardian of the Portsea Island Union in 1858 when he also was appointed to the Portsmouth Parish Burial Board. He ascended to the Mayorship of Portsmouth in 1864/5, following his brother and took occupation of Wymering Manor House in 1881.

Emma died in 1892 and was buried at Wymering Church. Richard followed in 1900. There is a memorial to Richard and Emma in the Cathedral and a memorial window, to Emma, and two plaques in Wymering Church. Their children included, Lt. Col. Charles Ford (1845 - 1918), Archibald Ford, Architect (1846 - 1930), Douglas Ford, Author and Solicitor (1851 - 1916), Dr. Arthur Ford (1854 - 1918) and Gen. Sir Richard William Ford R.A.M.C. (1857 - 1925).

See the plaques and grave at St Peter's and St Paul's Church, Wymering, and
plaques to Richard and Emma, and their son Charles, at Portsmouth Cathedral.