Location
At the English Heritage store, Fort Brockhurst, Gosport [Item Ref: 83100127]. This memorial was originally sited at the west end of the south wall to the nave. The exact position is unknown, but the 1873 Guide to the Church lists this memorial in the same section as that for Captain William Madden which still exists in situ.


Description
The memorial is in a dirty condition and has one corner missing.


Memorial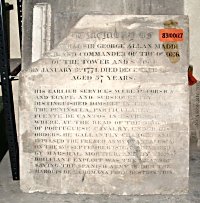 Inscription
TO THE MEMORY OF
MAJOR-GENERAL SIR GEORGE ALLAN MADDEN
Knt. C.B. AND COMMANDER OF THE ORDER
OF THE TOWER AND SWORD
BORN JANUARY 3RD 1771. DIED DECEMBER 8TH 1828
AGED 57 YEARS

HIS EARLIER SERVICES WERE IN CORSICA
AND EGYPT AND SUBSEQUENTLY HE
DISTINGUISHED HIMSELF IN THE WAR OF
THE PENINSULA, PARTICULARLY NEAR
FUENTE DE CANTOS IN ESTREMADURA
WHERE, AT THE HEAD OF THE BRIGADE
OF PORTUGUESE CAVALRY, UNDER HIS
ORDERS,HE GALLANTLY CHARGED AND
REPULSED THE FRENCH ARMY OF ANDALUSIA
ON THE 15TH SEPTEMBER 1810 COMMANDED
BY MARSHALL MORTIER AND BY THIS
BRILLIANT EXPLOIT WAS THE MEANS OF
SAVING THE SPANISH ARMY UNDER THE
MARQUIS DE LA ROMANA FROM DESTRUCTION

Further Information

On Saturday 1st September 1866, Sir Frederic Madden, nephew of Sir George, visited the Royal Garrison Church and noted in his diary that "...the monument of my late uncle, Sir G. Madden had been removed from the place it formerly occupied, and was placed higher up and crowded by others, in order to gain space. It does not now look so well as before."

See "The Services of Sir George Madden 1789-1814" by Mark Thompson

See also, the memorial to Captain William John Madden still in the church.