Location
There are two plaques associated with this window, which is the most westerly of the three in the south wall of the Chancel. The Butler plaque is immediately below the current window which replaced the original that was lost in 1941. The Youens plaque is situated below and to the left of the window.


Memorial
Window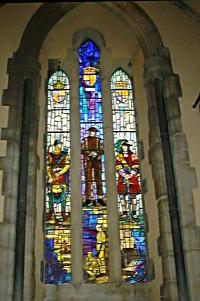 Modern Plaque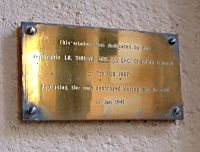 Inscription (To Original Window)
TO THE GLORY OF GOD AND IN PIOUS MEMORY OF LIEUT.GENL THE HON: HENRY EDWARD BUTLER WHO SERVED IN EGYPT AND THE PENINSULAR WAR DIED IN PARIS DEC 7 1856 AGED 76 AND HIS FOUR SONS. HENRY THOMAS CAPT 55TH REGT FELL AT INKERMANN NOV 5 1854 AGED 42. CHARLES GEORGE CAPT 86TH REGT DIED OF FEVER AT BOMBAY DEC 17 1854 AGED 31. PIERCE RECTOR OF ULCOMBE KENT SOME TIME CHAPLAIN TO HM FORCES IN THE CRIMEA DIED FEB 8 1868 AGED 42. JAMES ARMAR CAPT. CEYLON RIFLE REGT DIED FROM WOUNDS RECEIVED AT THE GALLANT DEFENCE OF SILISTRIA JUNE 21 1854 AGED 27. THIS WINDOW WAS GIVEN BY NUMEROUS RELATIONS AND FRIENDS.

Inscription (To Modern Window)
THIS WINDOW WAS DEDICATED BY THE
VENERABLE J.R. YOUENS O.B.E., M.C., Q.H.C. CHAPLAIN GENERAL
ON 7TH FEB 1967
REPLACING THE ONE DESTROYED IN AN AIR RAID
IN JAN 1941
Further Information

Three of the sons mentioned on the Butler plaque have also been honoured within the Garrison Church on small plaques attached to the backs of the choir stalls in the chancel. See:-
Plaque to Captain Henry Thomas Butler
Plaque to The Reverend Pierce Butler
Plaque to Captain James Armar Butler