Location
The plaque is on the back of one of the choristers stalls in the chancel.
South side, front row, third from the west end.


Memorial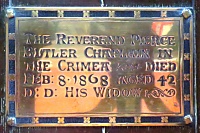 Portrait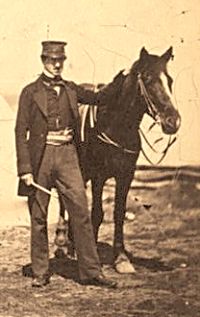 Portrait of Reverend Butler, 1855
From the Roger Fenton Catalogue
The Library of Congress
Rep.No. LC-USZC4-9339


Inscription
THE REVEREND PIERCE
BUTLER, CHAPLAIN IN
THE CRIMEA DIED
FEB 8 1868 AGE 42.
DD:WIDOW.

Further Information

"Pierce Butler, Rector of Ulcombe, served as Chaplain to the Forces in 1854-5, at Scutari and with the 2nd Division before Sebastopol; was present at the taking of Kertch. He was the first promoter of the recent and already renowned Survey of the Siniatic Peninsular; died February 8th 1868. Gentle and brave, able and lowly, calm and adventurous, holy and cheerful. Pierce Butler was honoured and beloved by all who knew him."
[From the 1873 Guide to the Church]

Pierce Butler was one of the four sons of Lieut. General The Hon. Henry Edward Butler who are commemorated on a plaque beneath the South-West window in the chancel.