Location
The plaque is on the back of one of the choristers stalls in the chancel.
South side, front row, fourth from the west end.


Memorial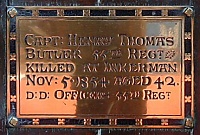 Inscription
CAPT. HENRY THOMAS
BUTLER, 55TH REGT
KILLED INKERMAN
NOV 5 1854 AGE 42
DD: OFFICERS 55 REGT.

Further Information

"Captain Butler, 55th Regiment, served in China (medal) at Amoy, Chusan, Chinhae, (including repulse of night attack) Chapoo, Woosing, Shanghae, and Ching Kiang Foo; also served with the Army of the East, and was present at the battles of the Alma and Inkerman; at the latter battle he was Deputy Assistant Quarter Master General to the First Division, and fell while actively engaged in his important duties, aged 42." [From the 1873 Guide to the Church]

According to Colborne and Brine in "The Last of the Brave", the name of Henry Thomas Butler appears on a memorial to the men of the 55th Regiment killed in the Crimea which was erected on Cathcart's Hill, by the Officers of the Regiment.

Captain Butler was one of the four sons of Lieut. General The Hon. Henry Edward Butler who are commemorated on a plaque beneath the South-West window in the chancel.