Location
High on the east wall of the nave in the Royal Garrison Church.


Memorial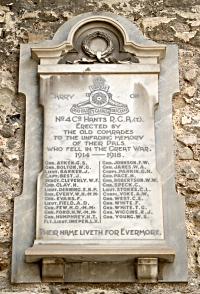 No 4 Co. Hants RGA (T)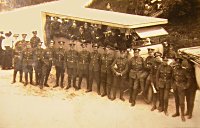 Map Showing the Drill Hall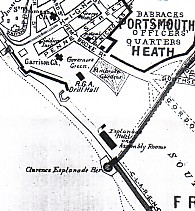 Inscription
No 4 Co HANTS R.G.A.(T)
ERECTED BY
THE OLD COMRADES
TO THE UNFAILING MEMORY
OF THEIR PALS
WHO FELL IN THE GREAT WAR
1914-1918
Gnr ATKEN G.S.
Gnr BOLTON W.G.
Lieut BARKER J
Capt BEST J
Sergt CLEVERLY W.F.
Gnr CLAY H
Lieut DENNING E.N.P.
Bmr EVERY W.H., MM
Gnr EVANS F
Lieut FIELD D.A.D.
Gnr FEW H.D.,MM
Gnr FORD H.W.,MM
Gnr HUMPHREY H.T.
Flt.Lieut INKPEN L.V.



Gnr JOHNSON F.W
Gnr JANES W.A.
Corpl PARKIN G.H.
Gnr PACE H
Gnr ROBERTSON W.W.
Gnr SPECK C
Lieut STOKES C.L.
Corpl VOKE A.W.
Gnr WEST C.E.
Gnr WHITE F.
Gnr WHITE T.G.
Gnr WIGGINS R.J.
Gnr YOUNG W.S.



THEIR NAME LIVETH FOR EVERMORE.
Further Information
This memorial was unveiled at 3.45pm on Sunday 5th February 1928 at the Drill Hall on Governor's Green This information was found in a copy of The Hampshire Telegraph and Post - Friday 3rd Feb 1928 by Ian Pink whose grandfather was a member of No.4 Co. Hants R.G.A.(T). He also located a photograph (see left hand bar) in his grandfathers papers which shows the Company shortly before they embarked for France - his grandfather is fifth from the left in the front row.

Governor's Green is adjacent to the Royal Garrison Church, but the Drill Hall disappeared sometime around WW2. On the left is a map, from around 1933, showing the location of the Drill Hall.

Lieut DENNING E.N.P. was the brother of Lord Denning.

Gunner Few HD is not recorded on the CGWC site, but there is a Gunner Fewtrell HE of the RGA which may be the same person.

Gunner H Clay (Service No. 814) died on 13th June 1915 and is buried in Kingston Cemetery, Portsmouth. He was the son of Henry and Ellen Clay, of 11, Barrack St., Portsmouth.

Gunner Howard Clement Pace (Service No. 1412) died on 5th July 1916 and is buried in Crawley (St. John the Baptist) churchyard. He was the son of Henry Clement Pace and Lilian Elizabeth Pace, of "Novar," Earlswood Rd., Redhill, Surrey.

Gunner William Albert Janes (Service No. 352229) died on 9th October 1918 and is buried in the Birr Cross Roads Cemetery, West-Vlaanderen, Belgium. He was at that time in the 113th Siege Bty. He was the son of William Louis Seymour Janes and Alice Florence Janes, of 55, Devonshire Avenue, Southsea, Portsmouth.

Bombadier William Henry Every (Service No. 1688) died on the 2nd September 1916, aged 31, and is buried in the Peronne Road, Cemetery, Maricourt, France (near the Somme). He was the husband of Ethel M. Every, of 52, Stirling St., Kingston, Portsmouth.

Gunner George Henry Parkin (Service No. 352231), died on 09/07/1918, age 41. Buried at Bellacourt Military Cemetery, Riviere. Husband of Caroline Parkin, of 20, Gold St., Southsea, Portsmouth. For a family biography see the History in Portsmouth website.