Location
In the Memorial Garden beside the main path.


Memorial
Detail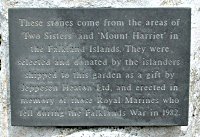 Inscription
These stones came from the areas of
"Two Sisters" and "Mount Harriet" in
the Falkland Islands. They were
selected and donated by the islanders
shipped to the garden as a gift by
Jeppesen Heaton Ltd., and erected in
Memory of those Royal Marines who
Fell during the Falklands War in 1982.
Further Information
Jeppesen Heaton Ltd. are shipping agents from Surrey.
Further reading:
www.naval-history.net/F56harriet.htm
www.naval-history.net/F55twosisters.htm