Location
On the grassy area to the south-west of the museum entrance.



Memorial
Plaque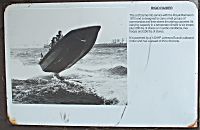 Inscription on Plaque
RIGID RAIDER

This craft came into service with the Royal Marines in
1972 and is designed to carry small groups of
commandos and their stores for raiding purposes. Its
carrying capacity in a temperate climate is six troops
plus 200lbs of stores, or in Arctic conditions, five
five troops and 200lbs of stores.

It is powered by a 140HP Johnson/Suzuki outboard
motor and has a speed of 25 to 30 knots.