Location
On the grassy area to the south-west of the museum entrance. Plaque 1 is on a pedestal to the North of the craft whilst Plaque 2 is on a viewing platform to the South.



Memorial
Plaque 1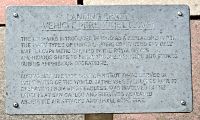 Plaque 2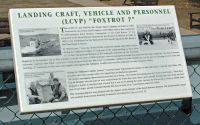 Inscription on Plaque 1
LANDING CRAFT
VEHICLE PERSONNEL (LCVP)

THE LCVP WAS INTRODUCED IN 1960 AS A REPLACEMENT FOR
THE MANY TYPES OF MINOR LANDING CRAFT USED IN WORLD
WWII. LCVPs WERE CARRIED IN THE ROYAL NAVY'S
AMPHIBIOUS SHIPS TO FERRY TROOPS VEHICLES AND STORES
DURING AMPHIBIOUS OPERATIONS

DURING HER LIFE THIS CRAFT, FOXTROT 7, HAS SERVED IN
MOST PARTS OF THE WORLD. IN THE 1982 FALKLANDS WAR, F7
OPERATING FROM HMS FEARLESS, WAS INVOLVED IN THE
LANDING AT SAN CARLOS AND SURVIVED REPEATED
ARGENTINE AIR ATTACKS AND SMALL ARMS FIRE.


Inscription on Plaque 2
LANDING CRAFT, VEHICLE and PERSONNEL
(LCVP) "FOXTROT 7"
This LCVP, F7, was built by the Dorset Yacht Company at Poole in 1965. Powered by two Foden diesel engines, LCVPs Mk2s such as this could carry 35 fully equipped Royal Marines Commandos or two Landrovers. F7 was presented to the Royal Marines Museum by the Ministry of Defence in 1986. In 2001 it was refurbished for the Museum by 539 Assault Squadron RM based at RM Turnchapel in Devon.

In 1982 Foxtrot 7 was one of four LCVPs carried by assault ship HMS Fearless during the Falklands conflict. F7 took part in the initial landings at San Carlos on 21st May, taking Royal Marines of 40 Commando and men of the Parachute Regiment to the beaches. On 24th May it helped evacuate the crew of HMS Antelope when an unexploded bomb detonated and the ship caught fire. The Royal Marines Coxswain, Corporal Alan White, received a commendation from the Task Force Commander, Admiral Sir John Fieldhouse, for his part in rescuing 41 crew from the Antelope. F7 continued to ferry men and supplies throughout the Falklands conflict and was also employed on mine clearance duties.

During the Falklands Conflict, Foxtrot 7 survived many Argentinian air attacks on the Task Force. Corporal Alan White RM, describes one lucky escape when two Argentinian A4 Skyhawks appeared:
"We started zig-zagging vigorously because they were firing... the rounds were going very close to our heads, then there was an almighty whooshand we were soaked from the water that came down, and I actually thought that one of the A4s had dropped a bomb. It was later that I found that it was an A4 hitting the water, because he'd been taken out by a missile from one of our ships, and he'd landed literally 50 feet in front of us." (Oral history interview, 2002)

This viewing platform was funded with the support of the Friends of the Royal Marines Museum. The intretation panel was paid for from money donated in memory of Colonel WB Mansell OBE MC.