Location
On the grassy area to the south-west of the museum entrance.




Memorial
Plaque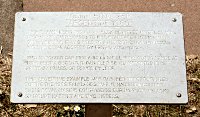 Inscription on Plaque
105mm HOWITZER
ARGENTINE 1980

THIS ITALIAN DESIGNED 105mm PACK HOWITZER MODEL 56 WAS
DEVELOPED IN THE 1950s TO FIRE STANDARD AMERICAM M1
105mm SHELLS. IT WAS SOLD TO A NUMBER OF COUNTRIES AS
WELL AS BEING ADOPTED BY BRITAIN AND NATO.

THIS HOWITZER CAN FIRE A 33lb SHELL OVER 10,000 YARDS AT
1,380 FEET PER SECOND. IT CAN ALSO BE TRANSPORTED IN 12
PARTS BY MULES OR TOWED BY JEEP.

THIS ARGENTINE EXAMPLE WAS CAPURED (sic) IN PORT STANLEY
DURING THE 1982 FALKLANDS WAR. IT HAD BEEN USED TO
SHELL ROYAL MARINE COMMANDOS DURING THEIR ATTACKS
ON MOUNT HARRIET AND TWO SISTERS.