Location
In the Memorial Garden beside the main path.


Memorial
Inscription
To the Everlasting Memory of the men of 47 Royal Marine Commando
Who gave their lives in the liberation of Europe 1944-1945
Port-en-Bessin, Sallenelles, Sannerville/Dozele, Walcheren, Kapelsche Veer.
Lt.
L/Cpl.
Mne.
Mne.
Mne.
Mne.
Mne.
Sgt.
Lt.
Sgt.
Mne.
Sgt.
Cpl.
Mne.
Mne.
Mne.
L/Cpl.
L/Cpl.
Mne.
Mne.
Capt.
L/Cpl.
Mne.
Mne.
Mne.
Mne.
Mne.
Mne.
Cpl.
Mne.
Cpl.
Mne.
Mne.
Major
Mne.
Mne.
Mne.
Mne.


ADAM I.W.
ANDREWS H
ANSEL R.E.
ASHCROFT V.
BAINBRIDGE C.
BAXTER G.H.
BEDWORTH H.
BEE E.E.
BORNE F.
BRADLEY A.J.
BREACH E.T.L.
BREHME R.H.
BUCHANAN.J.
BUNYAN K.C.
CABLE A.V.
CARTER A.
CATTS J.H.
CHATFIELD A. (R.A.M.C.)
CLARK D.J.
COLLINS J.W.
COUSINS T.F.
DAVID E.N.
DAVIES A.S.
DAVIES W.N.
DAY J.E.
DERRICK M.
DUKE A.
DUTTON C.
DYKE F.J.
EVANS C.
EVANS E.
EVANS J.E.M.
FAWCETT J.
FEACEY J.R.
FEE D.
FALLOWS P.B.
FEWTRELL C.J.
FLAHERTY J.


14/1/45
6/6/44
17/7/44
28/10/44
6/6/44
7/6/44
6/6/44
6/6/44
11/8/44
7/6/44
7/6/44
2/11/44
2/11/44
6/6/44
23/7/44
7/6/44
7/6/44
6/6/44
7/6/44
7/6/44
7/6/44
7/6/44
2/11/44
18/6/44
1/11/44
2/11/44
2/11/44
7/6/44
14/1/45
14/1/45
2/11/44
7/6/44
7/11/44
6/6/44
2/11/44
7/6/44
-/6/44
6/6/44


Mne.
Mne.
Sgt.
L/Cpl.
Sgt.
Lt.
Mne.
Mne.
Mne.
L/Cpl.
Mne.
Lt.
Mne.
Sgt.
Cpl.
Cpl.
Mne.
Mne.
L/Cpl.
Mne.
Mne.
Mne.
Mne.
Mne.
C/Sgt.
Mne.
L/Cpl.
Mne.
Mne.
Mne.
Mne.
Mne.
CSM.
Mne.
Sgt.
Sgt.
Mne.
Mne.


FLANNAGHAN J.
FLEET.A.
FLETCHER T.P.
FLETCHER W.R.D.
FULLER E. (101A Cdo)
GARDENER M.C.
GOUDE M.H.
GREENHALGH S.
GRIFFITHS J.H.
GRIMSDELL M.H.
GUYMER A.W.
HAYWARD N.A.W.
HUBBARD R.L.
HUGHES D.
JENKINS A.A.
JONES N.
KEMP J.
KINLOCK W.C.G.
LAWTON E.G.
LONGDEN A.
LUMSDEN J.
cGREGOR D.F.
MAUD N.S.
MILLS.G.W.F.
MORLEY C.N.
MUIR J.
NICHOLL F.
NORIE G.
OATES B.
PATEY K.G.
PAYNE H.
PETTIT R.A.
PLANK H.H.
PRY B.C.H.
PUDDICK J.E.
RACKHAM R.F.
REDMAN W.
REYNOLDS B.C.V.W.


3/11/44
7/6/44
7/6/44
2/11/44
16/6/44
6/1/45
7/6/44
14/1/45
8/8/45
2/11/44
16/12/44
2/11/44
1/11/44
6/6/44
7/6/44
7/6/44
21/8/44
6/6/44
2/11/44
2/11/44
6/6/44
2/11/44
15/6/44
7/6/44
20/8/44
3/11/44
2/11/44
6/6/44
7/6/44
3/11/44
2/11/44
2/11/44
2/11/44
15/1/45
2/11/44
2/11/44
6/6/44
25/8/44


Cpl.
Cpl.
Mne.
Mne.
Mne.
Mne.
Mne.
Mne.
CSM.
Capt.
Mne.
Lieut.
Mne.
Mne.
Cpl.
Mne.
L/Cpl.
Mne.
Mne.
Mne.
Mne.
Major
Cpl.
Mne.
Mne.
Major
Mne.
Sgt.
Mne.
Cpl.
Lt.
Mne.
Mne.
Mne.
Mne.
L/Cpl.
Mne.



RIPINER C.S.
ROBERTSON G.
ROWLINSON C.
SAMBROOK W.D.
SCOTT F.L.
SMITH B.G.
SMITH J.
SMITH T.W.C.
SPEAR W.J.C.
STICKLING B.J.
STOVELL W.C.
STYLE M.G.H. (SUFFOLKS)
SWEENE E.J. 6/6/44
TATTON -.Y.
TEED K.
THATCHER A.G.M.
TOWLE W.
TULL A.F.P.
TULLETT D.A.
TURNER A.
TURNER S.H.R.
TYNDALE-BISCOE W.J.
UNSWORTH J.
WALKER J.C.
WALKER R.
WALTON D.H., MC.
WAYGOOD L.T.
WEBB R.E.
WEBB R.H.
WEBSTER E.G. (101.A.Cdo)
WHITTAKER G.B.
WILKINSON R.M.
WILLIAMS R.
WILSON G.M.
WITHINGTON J.V.
YOUNG R.
ZAMMIT R.



2/11/44
14/6/44
27/7/44
6/6/44
6/6/44
6/6/44
6/6/44
17/7/44
11/44
14/1/45
14/1/45
2/11/44
6/6/44
14/6/44
-/11/44
2/11/44
7/6/44
7/6/44
16/6/44
4/11/44
6/6/44
21/1/44
2/11/44
14/6/44
7/6/44
4/9/44
6/6/44
2/11/44
1/7/44
6/6/44
28/6/44
6/6/44
14/1/45
2/11/44
7/6/44
17/7/44
31/12/44



Further Information
They landed on D-Day 6th June 1944 in Normandy taking Port en Bessin by D+1 in an independent action. After further action in France and a spell of rest, they landed at Walcheren in November 1944 before serving in Holland in January-April 1945.

Two memorials to the actions at Port-en-Bessin were recently unveiled at that location.

The Memorial at Port-en-Bessin

The following text is taken from the memorial which stands over the western bunker at Port-en-Bassin.

"In 2004 the distinguished military historian Major General Julian Thompson wrote: 'The operation by 47 Royal Marine Commando at Port-en-Bessin was one of the great feats of arms of any unit ... of any nation in the Second World War.'"

Port-en-Bessin was the planned terminal for PLUTO (PipeLineUnderTheOcean) supplying to Normandy from England the vital petrol supplies required for the British and Canadian Armies.

The Commando, 420 strong, left Southampton in two mother ships and at 0730 hours on D-Day, 13 kilometres off-shore, the marines climbed into 14 Landing Craft Assault (LCAs).

The big guns at Le Hamel and Longues were ranging and soon one LCA was hit and sank, 12 marines being killed or drowned and 11 seriously wounded. The other LCAs had to cross a wide band of submerged, mine-tipped steel obstacles: 4 were blown up and sank and 7 were damaged. Incoming LCAs were not to stop for rescue and some of the wounded drowned.

Reaching the beach the commando had lost 28 killed or drowned, 21 wounded and 27 missing. Much equipment including weapons and wireless sets was lost.

Under fire, the commando now penetrated the enemy front line and embarked on a 12 mile march through enemy territory towards Port-en-Bessin. Several enemy positions were overcome: one marine was killed and 11 wounded.

Digging in overnight on Mont Cavalier the commando commenced its assault next day. An entrenched position beside the Bayeux road was charged and overcome. Ahead lay the heavily defended concrete bunker positions on the 65 metre high headlands west (this site) and east of the harbour, and the harbour defences. The defenders were from the same division which decimated the Americans at Omaha.

One troop then advanced up the open, mined, flame-thrower protected steep slope leading to the main bunker high on this western headland. The marines were under machine gun fire and grenades thrown from above. They had advanced more than half way up the slope when disaster struck. Intelligence had stated that the harbour was empty of armed ships but just before D-Day two FLAK ships had moved in and had a direct view of the slope. Opening fire they killed 12 and wounded 17, more than half the troop, within a few minutes. Amid this carnage the troop had to withdraw.

This disaster was further compounded when the commando's rear HQ was overrun, suffering casualties. An enemy counter-attack across the Bayeux road then cut off the troop defending Escures. The commando's strength had shrunk to 280.

The harbour defences were gradually cleared but casualties were continuing to rise, the FLAK ships still threatened, ammunition was running low, the marines were tiring and the major defences on the two headlands were unconquered.

At this point a reconnaissance of the eastern side of the harbour revealed a possible route up the eastern headland. With darkness falling Captain Cousins led a small group of 4 officers and 25 men in a desperate assault. The enemy positions were sited above them. They first encountered a concrete bunker which Cousins, with four men, rushed. He was killed by a grenade and 3 men wounded but the bunker was captured. The remaining marines, outnumbered 4 to 1, fought their way upwards against the concrete, entrenched, mine and barbed-wire defences above. One enemy position after another was captured and by midnight the whole of the eastern headland had been captured.

The morale of the defenders in the western headland bunkers unlike that of the marines had been weakened and next day the commando overran these and then re-occupied Escures.

In all 46 marines had been killed or drowned and 70 wounded.

Three days later the Commando was assisting the 6th Airborne Division at the eastern end of the bridgehead.

Five months later having fought its way northward for over 350 kilometres to Dunkirk and Ostend it participated in another dangerous but successful amphibious assault on the Atlantic Wall at the Dutch Island of Walcheren, the gateway to Antwerp."
-----------------------------------------------------------
Memorial to Captain Cousins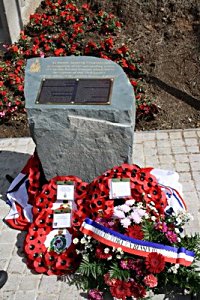 A separate memorial to Captain Cousins who died capturing the bunker was unveiled on 7th June 2009. The text reads as follows:-

"During the afternoon and evening of 7th June 1944, in the battle for Port en Bessin, 47 Royal Marine Commando had suffered serious reverses and casualties were rising. If success was to be achieved the formidable defences of this eastern headland would have to be overcome.

Captain Cousins, commander of the troop which had suffered severely at the headland West of the harbour, now undertook a reconnaissance of this headland and with a small group of men found the zig zag access path leading up from the southern end of the harbour.

He returned to say to his Commanding Officer, Lieut Colonel Phillips, that if he were given 25 men he felt he could capture the headland.

In gathering darkness, accompanied by Captain Vincent and Lieutenant Stickings, Cousins now led his 25 marines up the zig zag path. Towards the upper reaches, ignoring possible minefields, the party came under fire from this bunker. Ordering the rest of the party to wait and taking Marines Delap, Howe, Madden and Tomlinson with him Cousins broke through a wire fence guarding the bunker and under covering fire from the four marines and firing as he went he rushed the bunker.

As he reached it a grenade was thrown from the bunker and he fell mortally wounded, Marine Madden was also seriously wounded. The waiting party then continued the assault on the bunker and overcame it.

Inspired by Cousins' determination, initiative and courage the marines now advanced onwards and upwards. Outnumbered four to one, in the open but taking advantage of darkness they steadily overcame an enemy possessing greater fire power and occupying secure mine protected entrenched positions above them. By midnight all of the defences had been overrun and the whole position was in the hands of the commando. Cousins' outstanding leadership had turned the battle.

The morale of those manning the Port's remaining defences had been weakened and next day all of these were overcome. The vitally important supply of petrol for the British and Canadian Armies was assured."
-----------------------------------------------------------

More on the story of the action at Port-en-Bessin can be found at the Daily Telegraph.

The photo of the Port-en-Bessin memorial is published courtesy of Alan Marsh and the photo of Captain Cousins' memorial is published courtesy of Major Bob Perry. More photographs of the Port-en-Bessin memorial can be found at Alan Marsh's Picasa page. Major Perry's photographs can also be found on a separate Picasa page.

Photos of the war graves for each man are available on the 47 Commando website.

POSTSCRIPT
In November 2010 Peter Cowling wrote to the website saying "I have recently visited the memorial to Capt Cousins on the eastern slope (cliff) by Port-en-Bessin. The plaque dedicated to Capt Cousins and his heroic actions, at the site says '... capture of this vital bunker.' However it is not a bunker but an ex water tower fed by a spring ... in the valley below. The German constructed bunker is some distance away near the cliff's edge part of it having collapsed."

These comments were sent off to Major Bob Perry who responded "I was aware that the round water pumping house does not exist on any wartime aerial photographs of the eastern feature. However, surviving veterans, including Professor John Forfar MC, who was the Medical Officer (and who was responsible for the wording on the brass plate), have assured me that there was some kind of bunker/fortification located at the top of the zig-zag path that the Germans defended and where Captain Cousins was killed. I have not seen any photographic evidence that would confirm this although it is possible that such a bunker/fortification was demolished to make way for the existing pumping house."

In addition, Bob sought the opinion of Major Mark Bentinck RM (Retd) who is the Corps Historian and he responded "I donít think there was ever any thought that the water installation on the Eastern Feature was the actual bunker regardless of its date of construction Ė it is not solidly enough built to be a German WW2 bunker. I have studied closely John Forfar's map, and the air photo in his book (though naturally the definition in the latter is poor), and cannot positively identify the bunker location, but there is, on his map (and a better version is in James Ladd's Corps history) some sort of substantial German position in approx the right place. Of course the map, produced before D Day, is only our best guess of where the German positions were. All I can add is that, if you were going to defend the only access through your wire, minefields etc to the feature, that is where you would put the key bunker. I believe the Memorial is in the right place, but the water installation is not the original German bunker."