Location
Dead Man's Copse. On Portsdown Hill, North of Portsmouth, near the junction of College Road and Portsdown Hill Road. The Copse is on the East side of College Road on the Crookhorn Golf Course. Permission to visit should be obtained from the club house which is located to the West of College Road and is well signed.

Description
400mm High x 350mm Wide x 300mm Deep.
The plaque has been damaged and is only partly legible.


Memorial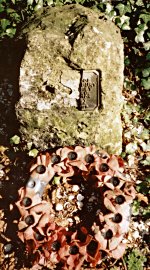 Inscription (Front)
2nd Lt WILFRED HANBURY GRENVILLE-GREY,
1st Bn. K.R.R.C.
Killed in action at Festubert,
May 15th 1915 aged 19



Further Information
He is buried in Rue-Des-Berceaux Military Cemetery, Richebourg-L'Avouep, Pas de Calais, France

See: http://www.portsdown-tunnels.org.uk/
(see under 'Surface Sites-Memorials-Dead Man's Copse')