Location
The Memorial Gateway was erected in 1921 on land offered to the hospital by Sir Woolmer White. This allowed the construction of the entrance from Commercial Road rather than Fitzherbert Road which had formerly been the main entrance.


Memorial Gateway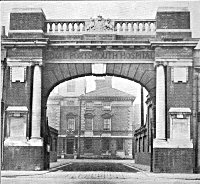 Inscription
THIS GATEWAY AND EXTENSIVE IMPROVEMENTS TO THE HOSPITAL BUILDINGS FORM PART OF THE MEMORIAL RAISED BY THE INHABITANTS OF PORTSMOUTH TO THE MEMORY OF THEIR FELLOW TOWNSMEN WHO GAVE THEIR LIVES FOR THEIR COUNTRY IN THE GREAT WAR


Further Information

The gateway was demolished along with the rest of the hospital when it closed in March 1979. It is not known whether the Memorial Plaque was saved or not.