Location
On Sirius Avenue in the Gunwharf Quays Shopping Centre.


Memorial (From the right)
Memorial (From the left)
Plaque
Memorial (In The Cascades))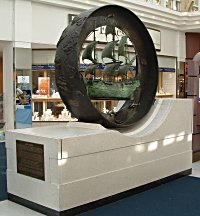 Inscription
HMS SIRIUS
THIS SCULPTURE, FEATURING THE FLAGSHIP OF THE FIRST FLEET
HMS SIRIUS, COMMEMORATES THE COURAGEOUS VOYAGE OF THE
FLEET, WHICH DEPARTED FROM PORTSMOUTH ON 13TH MAY 1787
AND ARRIVED IN SYDNEY ON AUSTRALIA'S FOUNDATION DAY, 26TH
JANUARY 1788.

IT WAS PRESENTED ON 13TH MAY 1991 TO THE CITIZENS OF THE
CITY OF PORTSMOUTH AS A GIFT FROM THE PEOPLE OF AUSTRALIA
DONATED BY THE COUNCIL OF THE MUNICIPALITY OF KU-RING-GAI
AND SUPPORTED BY THE COUNCIL OF THE CITY OF SYDNEY IN
RECOGNITION OF THE FLEET'S PLACE OF DEPARTURE AND THE
PART PLAYED BY PORTSMOUTH IN THE FOUNDING OF AUSTRALIA.


ALDERMAN RICHARD LENNON, MAYOR
WARREN TAYLOR, TOWN CLERK
COUNCIL OF THE MUNICIPALITY OF KU-RING-GAI
PACIFIC HIGHWAY, GORDON, SYDNEY, AUSTRALIA
THIS BRONZE IS AN EXACT COPY OF THE SCULPTURE LOCATED IN
THE KU-RING-GAI BICENTENNIAL PARK IN WEST PYMBLE, SYDNEY,
AUSTRALIA.

THE 'SIRIUS' REPRESENTED IN THE SCULPTURE WAS MODELLED
FROM THE ORIGINAL PLANS OF THE 'BERWICH', THE COAL CARRIER
MODIFIED AND RENAMED 'SIRIUS' BY HIS MAJESTY'S NAVY FOR THE
JOURNEY.


SCULPTOR: VICTOR CUSACK, AUSTRALIA


Further Information
The sculpture was unveiled by the Lord Mayor of Portsmouth, Councillor Syd Rapson, B.E.M. on 13th May 1991 in The Cascades Shopping Centre, Commercial Road. In 2009 the memorial was removed and placed in store until it could be re-sited in Gunwharf Quays in June 2012.

A notable omission in the text on the plaque is that the passengers on board the ships of the First Fleet were convicts.

See Also
A second plaque to the First Fleet in Old Portsmouth.
The plaque commemorating the visit of HMS Sirius to Mosman Bay, New South Wales in Ryde, Isle of Wight
The Wikipedia article on the First Fleet.
The searchable database of the names of the convicts on board the ships of the first fleet.