Location
On the waterfront, adjacent to the Spinnaker Tower.

Description
This memorial is a marble plinth with brass plaques on each side.
SIZE: Height at front 1010mm. Height at rear 1280mm x 550mm wide x 550mm deep.


Memorial (West)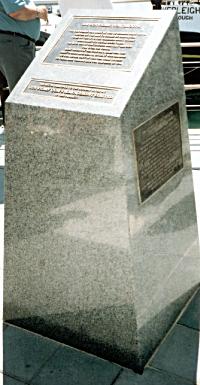 Memorial (East)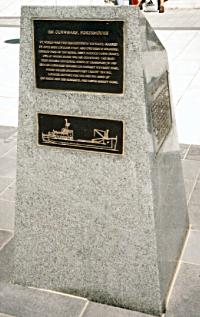 Inscription (top, main plaque)
HM GUNWHARF, PORTSMOUTH
THE GUNWHARF WAS BUILT IN 1662 TO ENABLE SHIPS' GUNS
TESTED BY THE ARMY'S BOARD OF ORDNANCE,
TO BE FITTED INTO THE WARSHIPS BUILT WITHIN
PORTSMOUTH'S ROYAL DOCKYARD.
THE SITE WAS IN CONTINUOUS MILITARY SERVICE
FOR OVER 300 YEARS,
MOST RECENTLY SERVING AS A BASE FOR THE
ARMY'S SHIPS AND BOATS, UNTIL IT WAS HANDED
TO THE ROYAL NAVY IN 1998 FOR THEM TO ADD
TO THEIR HMS VERNON SITE FOR DISPOSAL IN 1998.

Inscription (top, small plaque)
THE RLC IS GRATEFUL TO THE SUPPORT GIVEN BY
GUNWHARF QUAYS MANAGEMENT LIMITED
IN THIS PROJECT.

Inscription (left)
HM GUNWHARF, PORTSMOUTH.
BY 1988, THE CIVILIAN FLEET, PERSONNEL AND THE BOATS,
WERE TAKEN OVER BY COMMERCIAL CIVILIAN OPERATORS
AND THE REDUCTION OF FORCE LEVELS
REDUCED THE REQUIREMENT FOR MILITARY MANNED SHIPS.
THE LAST MILITARY UNIT, 20 MARITIME REGIMENT RCT.
MOVED OUT OF HM GUNWHARF ON 30 SEPTEMBER 1988.
THE ARMY'S MARITIME EXPERTISE IS NOW TO BE FOUND
IN THE SUCCESSORS OF THE RCT-
THE ROYAL LOGISTICS CORPS, SPECIFICALLY
17 PORT AND MARITIME REGIMENT RLC
AT THE MOUNT CENTRE, MARCHWOOD.

Inscription (back)
HM GUNWHARF, PORTSMOUTH
BY WORLD WAR TWO THE EXTENSIVE WD FLEET, MANNED
BY BOTH MOD CIVILIAN STAFF AND UNIFORMED SOLDIERS,
FORMED PART OF THE ROYAL ARMY SERVICE CORPS (RASC),
ONE OF WHOSE BASES WAS HM GUNWHARF, THE RASC
THEN BECAME THE ROYAL CORPS OF TRANSPORT IN 1965
AND HM GUNWHARF BECAME ITS PRIMARY WD FLEET BASE,
WHOSE DUTIES INCLUDED FAST TARGET TOWING,
LOGISTIC SUPPORT FOR THE BRITISH ARMY OF
THE RHINE AND THE HEBRIDES, AND RANGE SAFETY WORK.

Inscription (right)
HM GUNWHARF, PORTSMOUTH
CIVILIANS MANNED THE EARLY BOATS OWNED BY
THE BOARD OF ORDNANCE AND WERE USED TO CARRY
GOVERNMENT, NAVAL AND MILITARY SUPPLIES AND STORES,
INCLUDING AMMUNITION AND GUNS, INCREASING WORKLOAD
SAW THE BOARD'S FLEET INCREASE TO INCLUDE COASTAL
SHIPPING AND IN 1854, FOR THE CRIMEAN WAR,
THE ARMY'S NAVY WAS NAMED
THE WAR DEPARTMENT FLEET, THE FOLLOWING 100 YEARS
SAW GREATER MILITARY INVOLVEMENT BY THE ARMY'S FLEET
CULMINATING IN SUBSTANTIAL SUPPORT
FOR THE D-DAY LANDINGS,
WITH COMMAND AND CONTROL CRAFT AND DUKWS HEAVILY
COMMITTED TO THE LOGISTIC SHIP-TO-SHORE
RE-SUPPLY OF THE ALLIED FORCES.