Location
On the east side of the shopping centre, overlooking the canal.

Description
This building is a listed monument.


Monument
Plaque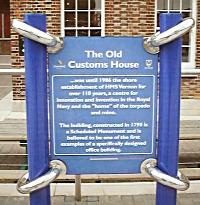 Inscription (Plaque)
The Old
Customs House

....was until 1986 the shore
establishment of HMS Vernon for
over 110 years, a centre for
innovation and invention in the Royal
Navy and the "home" of the torpedo
and mine

The building, constructed in 1790 is
a Scheduled Monument and is
believed to be one of the first
examples of a specifically designed
office building


Further Information
Although there are few original features or artefacts within the Old Customs House, there are a number of interesting modern items and many old photographs, mainly of ships. The modern items consist largely of wooden plaques listing the names of officers who served in the various branches of the Navy based at HMS Vernon/HM Gunwharf. The building was itself formerly known as 'The Vernon Building'.

In front of the building are a number of torpedoes which are deployed as public seating.