Location
Against the northern wall of the nave (opposite the altar) in St Barbara's Church

Description
The Memorial comprises of a wooden cabinet with metal grill doors that open to reveal a scene showing the Battlefleet at sea carved in wood. On either side of the cabinet there are two polished brass plates listing the names of the gunners killed in the First World War.


Memorial
Detail
Detail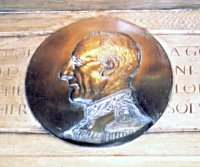 Inscription (Top of the Memorial)

BE STRONG AND OF A GOOD COURAGE
BE NOT AFRAID NEITHER BE THOU
DISMAYED FOR THE LORD THY GOD IS
WITH THEE WITHER SO EVER THOU GOEST.
DULCE ET PATRIA MORI


Inscription (Bottom of the Memorial)

IN
SURE
AND
CERTAIN
HOPE.


Names on the side panels
REAR ADMIRAL

THE HON H.L.A. HOOD
CB, MBO, DSO

CAPTAINS

H.J. SAVILL
E.P.C. BACK
J.D. DICK
P. FRANCKLIN
A.N. LOXLEY
M.H. COBBE
H.P.E.T. WILLIAMS

COMMANDERS

Sir C.R. BLANE Bart.
E.T. INMAN
N. DASENT
H. HALAHAN
V.F. GIBBS
R.H.C. VERNER
J.B. WATERLOW DSO.
G. GIPPS
A.T. JOHNSTONE
R.H. LLEWELYN

LIEUT. COMMANDERS

W.B. WATKINS-GRUBB
P. Van STRAUBENZEE
H.L. STREET
D.W.S. DOUGLAS
H.D. COLLINS
E.O. DISNEY
R.J.B. DREW

LIEUTENANTS

N.R. FERGUSSON
H. MATTHEWS
D.B. BUCHAM-BROWN
L.H. WHITE
J.C.F. LEWIS
G.T.C. COLLINS


CHIEF GUNNERS

A.J. BREAKSPERE
R.W. GARNHAM
G. COLLINS
W.J. WALLACE
G.F. ORGAN
W.C. HUNT
J. HAMILTON
A.E. STURT
W.G. JONES
J. BALCOMBE

GUNNERS

W. WESTBROOK
G.F. COLLINGWOOD
I.D. CASEY
J. CASSIDY
R. HARRISON
W.J. SHRUBSOLE
G.C. HAZARD
H.E. MORRISON
A.B. RUTHERFORD
W.D. WRIGHT
S.C.A. SMITH
W.G.S. SLEDGE
C. CHALLINOR
W.E. KING
G. BUNGARD
E.J. READ
D. SIMPSON
M. O'HALLORAN
A.F. ORGAN
C.J. JONES
J. LUND
W.D. KINDOM
R.J. PAGE
M.W. CAMERON
K. BALLANTYNE
W.R. ROBERTS
H.J. JENNINGS
W.S. BURCHELL
J. BARRY
G.R. KINNEAR
A.L. SUTTON
A. COX
J.R. JENKINS
H.H. GANDY
W.J. MURRAY

R.M.GUNNERS

C. CATLEY
A.E. NIXON

CHIEF PETTY OFFICERS

C. HANES
C.J. BOUTER
C.L. WHYTE
A. RETTY
A. MULLARKEY
F. ARNSBY
W. ROBINSON
C.W. GREGORY
W. LAPISH
E. HARRISON
A.J. HOLLAND
E. CATT
J. SMITHEN
A.C. EVANS
W.J. BEST
W.E. WARD
E. COPP
E. GILL
W.H. THWAITES
C. TAYLOR
J. BURFITT
J.G. RANSOM
G. OWEN
T.C. PALMER
H. SHERWIN
W.E. MINCHAM
G. PHILLIPS
F.A. HINES

CHIEF ARMOURERS

R. BRYANT
C. MARCHMANT
F. HEATHCOTT
G. GIBBS
G.A. PLAKETT
W.J. BEARMAN
H. STONE

PETTY OFFICERS

L. GATES
W.J. BOLLAND
L.J. MEAD
J. MACKAY
G. LANGRIDGE
H.S. NUNN
H. PENFOLD
A.J. CLARK
H. ALLEN
E. TEDRAKE
T.R. DALGLISH
G. BLACKMAN
E. MILLER
A.J. DUNCAN
J.M. TIBBLES
P. ARCHDEACON
E.W. WRIGHT
J. WALSH
A. CHESWORTH
W. WILCOX
A.E. SUMMERS

LEADING SEAMAN

W. HAWKINS
G. CUSLEY