Location
The two memorials are both on the South wall of the nave.


Memorial 1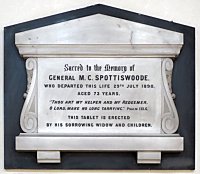 Memorial 2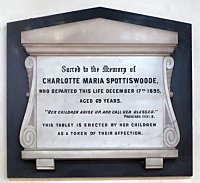 Headstone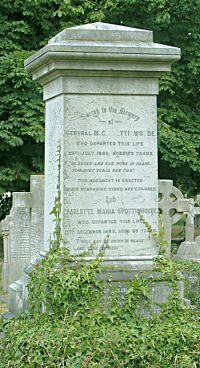 Grave Map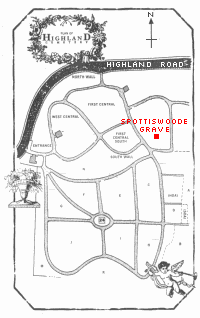 Berwick House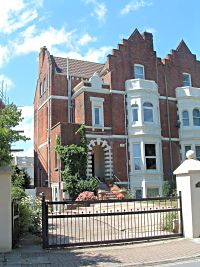 Col. A.A. Spottiswoode
Inscription 1
Sacred to the Memory of
GENERAL MC SPOTTISWOODE
WHO DEPARTED THIS LIFE 29TH JULY 1890
AGED 73 YEARS
"Thou art my helper and my redeemer
O Lord, Make no longer tarrying" PSALM LXX.6
THIS TABLET IS ERECTED
BY HIS SORROWING WIFE AND CHILDREN

Inscription 2
Sacred to the Memory of
CHARLOTTE MARIA SPOTTISWOODE
WHO DEPARTED THIS LIFE DECEMBER 17TH 1895
AGED 69 YEARS
"HER CHILDREN ARISE UP AND CALL HER BLESSED" PROVERBS XXX1.8
THIS TABLET IS ERECTED BY HER CHILDREN
AS A TOKEN OF THEIR AFFECTION

Inscription (Headstone)
Sacred to the Memory
- of -
GENERAL MC SPOTTISWOODE
WHO DEPARTED THIS LIFE
29TH JULY 1890, AGED 73 YEARS
"BLESSED ARE THE PURE IN HEART
FOR THEY SHALL SEE GOD"
THIS MONUMENT IS ERECTED
BY HIS SORROWING WIDOW AND CHILDREN

and

CHARLOTTE MARIA SPOTTISWOODE
WHO DEPARTED THIS LIFE
17TH DECEMBER 1895, AGED 69 YEARS
"I WILL LAY ME DOWN IN PEACE
AND TAKE MY REST"


---
ALSO TO THE MEMORY OF COLONEL C.J. SPOTTISWOODE
WHO DEPARTED THIS LIFE 8TH SEPTEMBER, 1919
"PEACE, PERFECT PEACE"

ALSO TO THE MEMORY OF COLONEL A.A. SPOTTISWOODE
WHO DEPARTED THIS LIFE 27TH NOVEMBER 1919
"REUNITED"



Further Information

Molyneux Capel Spottiswoode is believed to have joined the army in 1833, aged 16 years. There is little evidence of his early career but we do know that he attained the rank of Captain on the 31st December 1847. At that time he was with the Twenty-fourth Regiment Native Infantry (Rifle Company), Stationed at Setabuldee. Hart's Army List, 1873, shows Spottiswoode was a Lieutenant-Colonel in the Madras Staff Corps.

General Molyneux Capel Spottiswoode spent a significant part of his army career in India where many of his children were born. At the time of the 1871 Census, General Spottiswoode was listed as Colonel commanding 24th Regiment of Native Light Infantry, whilst Charlotte and children, Cecilia (16), John (14) and Arthur (9), together with grand-child Mary Groves (6) were living at 16 Park Street, Walcot, Bath.

By the 1881 Census the family had moved to Southsea and Spottiswoode is listed as Major-General on active list at Madras; on the Staff Corp of the Infantry. Living with him at Berwick House, Eastern Villas Road (which still exists - see photo) were his wife Charlotte, son Hugh (28) and Cecilia (22). Both children had been born in India.

By the 1891 Census, General Spottiswoode had died and only Charlotte and Cecilia are listed as living at Berwick House.

General Spottiswoode and his wife are buried in Highland Road Cemetery, Southsea.

The Spottiswoode Family

The history of the Spottiswoode family in the 19th Century is centred in India where many of them served in the Army. We know of a Colonel Henry Spottiswoode who shot himself on hearing of the mutiny of his troops (55th Bengal Native Infantry) at Nowshera on the 25th of May 1857 and Captain Hugh Spottiswoode who was killed in action at Nusseerab with the 1st Bombay Light Cavalry on the 23rd of May 1858. Then there was Andrew Spottiswoode who fought in Gwailor and commanded the 1st Dragoons in the Crimea. We know little of their lives but not so Arthur, son of Molyneux Capel Spottiswoode, (who is also commemorated on the headstone).

Arthur Andrew Spottiswoode was born on 6th of December, 1861 at what is now Vizianagaram on the East Coast of India. He was always destined to be a soldier and when the family moved to Southsea, after the retirement of Molyneux Spottiswoode, Arthur followed his brother Charles John in to the Royal Military Academy Sandhurst. In October 1881 he was commissioned as a Lieutenant into the 72nd Foot (later, the 1st Battalion Seaforth Highlanders) whom he joined in Aden in 1882. Arthur saw much action in Egypt before returning to England and seeing service in Ireland where he was promoted to Captain in 1889. Further action in Crete, Malta and a return to Egypt where the Seaforth's stayed until 1902 before sailing for India. In 1905 he took command of the same battalion he had served with for 24 years until he retired to Southsea in 1910 on full pay. Tragically he did not adapt well to civilian life and committed suicide at his brothers house, 5 Alhambra Road, where he was living on 27th November 1919.

You can read a fuller version of Arthur's life at www.hometown.aol.co.uk/kevinasplin/spott.html.