Location
Beneath the organ loft in the South-East corner of the church.

Description
An oak tablet 2500mm x 500mm.


Memorial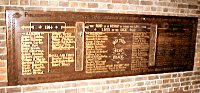 Inscription (Left Section)
1914
SAILORS
James L Ashton
Walter S Busby
Francis Carter
William Farr
Henry Green
Owen H Harman
James Hiscock
Richard James
William R Mayne
Markham H Phillips
Percy Roberts
Henry P Sexton
Robert Smith
Arthur Stroud

Arthur Turner
Gerald De La Motte Turner
William J Wallace
George HR Walters
Richard J White
William E Buckingham
__________________

ROYAL AIR FORCE
Maurice F Oakley
John De Camborne Paynter
Robert Tilley

Inscription (Centre Section)
THE ROOD IS IN MEMORY OF THOSE WHO GAVE THEIR
LIVES IN THE GREAT WAR

MAY THEY REST IN PEACE
SOLDIERS
Alexander W Abercrombie
Alexander R Abercrombie
Goerge H Abraham
Edward F Adams
William Bannister
Charles Brown
Frederick AG Bruford
William Care
Alfred HG Chatterton
Ernest E Clift
Charles H Curwood
Hubert J Daniell
George M Dawkins
Frederick W Dunstan
Manley F Ashwin (Priest)

George W Dyer
Reginald F Fleming
Frank Green
Ernest F Hall
Albert C Heather
Reginald HE Henning
Henry W Jenkins
Victor L Jenkins
Edwin F Johnson
Alfred W Linington
Neil Mackay
Lawrence Mackay
Albert W McGregor
Reginald HE Pitman

HELENA MARGARET DOVE
Frank M Munden
Harold Lane

Inscription (Right Section)
1918
Archibald J McPhaden
Basil Miles
Blenheim C Mitchell
Arthur W Morey
Charles Mundey
Frederick Ogden
Alfred P Peachey
Reginald Perry
Edward J Pole
Geoffrey Porter
Thomas M Redding
Henry GW Reeve
Augustine Robinson
Edward Steel

Harry M Stephens
John H Stewart
Percy Tanner
Thomas Tiller
Charles T Tracey
Ernest Viney
Alfred G Willcox
James W Whettem
Jack Whitcombe
William Williams
Alfred C Wood
Charles S Woodwards
Herbert F Wyatt
Sydney LF Hughes

Further Information
The oak tablet has carved inscriptions on all sides dating from before the First World War

ON THE LEFT: "The top of the original altar table of this church composed of old oak from Midhurst Church Sussex"

ALONG THE TOP: "Presented by Col Moffatt. Churchwarden in 1883. Five pieces of oak 1500 years old taken"

ON THE RIGHT: "From St Patricks Chapel, Drumlane, Ireland and have been removed and placed in the new altar"

ALONG THE BOTTOM: "It has been placed here for preservation after the erection of the new altar Dec 1905. Maurice R Bailey MA Vicar"