Location
To the south-west corner of the church overlooking the junction of Medina Road and Old Wymering Road.

Description
The memorial is made out of wood with the names painted on and varnished. It has recently been renovated.

SIZE: Estimated 2,000mms wide x 560mms deep x 2,900mms high.

There are 5 panels containing in all 62 names from WW1 & WW2.


Memorial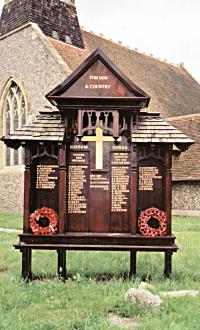 Inscription (Panel 1)
SGT. G.H.SAUNDERS
A. SAUNDER
F. LITTLEFIELD
G. OUSLEY
C. GOBLE
G.W. GILLETTBANCE
J.S. HART
E. BLACKMAN
H.A. BASTABLE
H.J. EDWARDS

Inscription (Panel 2)
R.S.M. W.J.RUMBOLD
T.C.JONES
F.H.BRIDGER
M.J.GRIFFIN
N.C.GOODALL
E.RAMPTON
A.G.P.COLLYER
M.BENFOLD
A.ROBERTS
G.PENTNEY
G.H.TIGE
A.W.REED
R.PEEL
A.BARTLETT
C.STRUDWICK
M.WARE
Sgt.W.CARTER
Sgt.A.CARTER
G.H.PEEL
L/C F.W.SHIERS

Inscription (Panel 4)
QMS. C.A.PAYNE
J. BARTLETT
F.E. BOOBYER
H. PEARCE
R. PRATTINGTON
A.L. HEATHFIELD
H.E. BURROUGHS
W. SINGLETON
Sgt. E.TREE
Sgt. A.TREE
A. BLACKMAN
A. BUDD
G.J. RALPH
C.W.LEE DSM
H. GRANT
Sgt. J. WARE
C. WARE
W. WARE
R.C. WEAVER
Inscription (Panel 5)
H.E. BURNETT
F.D.P. HAWKINS
T.P. MULLIGAN
L. SANSBURY
Cpl. E.E. KITCHING
J. PEARCE
F.J. MILES
F.V. THORN
J. PARKER
S.E.SHIERS
Inscription (Panel 3)
Brg.Gen. W. ELLERSHAW
2nd Lt. E.G.H. WEBB
Mjr. M.M. MAGRATH, D.S.O.
Further Information (From the Church Records)

This free-standing memorial is situated at the south west corner of the churchyard. It has a crucifix that has been moved to the inner vestry for safe keeping.

Originally a memorial to those who died in the First World War, it was sited in the grounds of the Wymering Church Institute at the junction of Havant Road and Cosham High Street (where Regal Court now stands). A faculty dated 18th August 1939 was granted for 'the transferring of the Church War Memorial .... to the South-west corner of the old churchyard at Wymering' at the time the Institute was demolished. An estimate 'to supplying all necessary labour and transport for the taking down of the War Shrine, transporting to, and re-erected ...' (£12.00) is attached to the faculty.

When first sited in the churchyard, it was placed to the west of the porch. It was then taken into the church for a period, to protect it during the bombing raids of World War II and was erected on the north wall of the north aisle where the narthex door is now placed. A PCC minute of 22nd November 1962 states: 'The War Memorial had been renovated and positioned in the south west corner of the churchyard''. A photograph circa 1965 shows the memorial to the west of the south porch.

Since 1939, upkeep has been the responsibility of Portsmouth City Council, but only because the memorial's origins are obscure and the Parochial Church Council of Wymering given the benefit of the doubt with regard to it not being a church memorial. It was refurbished in 1962, 1984 and 2000. The names of H. J. EDWARDS, L/C F.W.SHIERS and S.E.SHIERS have been added, and from an earlier photograph, it would seem that many names are missing from previous lists.

THE MEN

Brigadier General Wilfrid Ellershaw
Royal Artillery
Attendant to Lord Kitchener's Staff
Died: 5 June 1916, aged 44 years, at the sinking of HMS Hampshire
Memorial: Hollybrook, Southampton
First and second class Orders of St. Stanislas (Russia). Son of the Rev. John Ellershaw, of Clifton, Bristol; husband of Catherine Ellershaw, of Wymering, Cosham, Hants. Commanded 113th Bty. Royal Field Artillery from Aug. to Nov., 1914.