Location
The memorial is on the west side of the Lady Chapel.


Memorial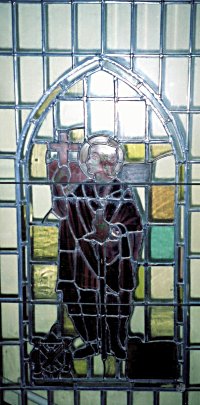 Inscription
TO THE GLORY OF GOD

AND IN LOVING MEMORY

OF G.W.H.ADAMS (HARRY)

CLERK RN OF H.M.S.

FORMIDABLE 1915.
FURTHER INFORMATION

'Harry' Adams (George William Henry Adams) was lost when HMS Formidable went down on 1 January 1915 and is remembered on the CHATHAM NAVAL MEMORIAL panel 9.

HMS FORMIDABLE.
Formidable Class battleship
Built: 17 November 1898.
CO: Capt A.N.Loxley RN, flagship of Vice Admiral Sir Lewis Bayly.
Location lost: English Channel, 25 miles off Portland.
Cause: Submarine attack.
Casualties: 547
Survivors: 233.

Notes: HMS Formidable was leading the eight battleships of the 5th Battle Squadron down the English Channel screened by two light cruisers. The destroyers had been sent back to Harwich when the ships passed Folkestone. The squadron had been spotted by U24 (Kapitanleutnant Rudolph Schneider) but he had been unable to manoeuvre into an attacking position and had to watch as the ships sailed by. Shortly after 1900hrs the British ships made a 16-point turn in accordance with orders that course should be altered after dark in areas where submarines were known to be operating. Again at 0200hrs a second 16-point turn was made so that Formidable and her consorts were steaming back along their course and towards U24. This time Schneider was in a perfect position and at 0225hrs fired a torpedo against Formidable, the last ship in the line. It hit her on the starboard side by the fore funnel. Her machinery spaces began to flood and she assumed a list to starboard. At 0315hrs Schneider fired a second torpedo which hit Formidable on the port side. On board Formidable the dynamos failed although the crew maintained perfect discipline in the listing and darkened ship. At 0445hrs she capsized and then sunk.

Bayly was ordered to haul down his flag as a result of this loss. His request for a court martial was refused despite prominent and vocal support for him in the House of Lords. In the end Bayly became the highly successful commander of Anglo-American forces operating from Queenstown in Southern Ireland.