Location
On the back of a chair next to the south wall of the chancel.


Memorial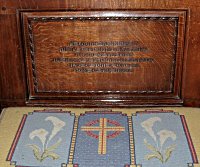 Transcription
IN LOVING MEMORY OF
MARY BUTTERFIELD SPARROW
WIDOW OF THE LATE
MR. ROBERT R. PENNINGTON SPARROW
ALSO TOM AND WALTER
SONS OF THE ABOVE



Further Information
In the 1881 census Mary B. Sparrow is listed as living at 14 Clarendon Road with her daughter Fanny (26) and sons Thomas S.P. (19, Lt. in the Militia), John S.P. (17, Medical Student), Walter L. (16, Clerk) and Horatio S.R. (22, Surgeon RN).