Location
Window and plaque in the north wall of the chancel.


Memorial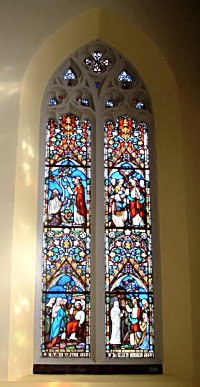 Inscription (Window)
HE IS NOT HERE FOR HE IS RISEN
H:V: 22ND JUNE 1858

I AM THE RESURRECTION AND THE LIFE
R:S: 11TH MARCH 1858

Inscription (Plaque)
THIS TABLET IS PLACED BY ELIZABETH SHEAN TO THE MEMORY OF ROBERT SHEAN AND HARRIETT VALLANCEY
HER BELOVED HUSBAND AND SISTER

Further Information
Harriett's surname is unclear on the plaque but thanks to Myles Earle we now know that she was the late wife of City Councillor George Preston Vallancey. Myles also added that Elizabeth Shean was the third daughter of Sir George Garrett of Portsmouth and that she married Robert Shean Esq " H.M.s 13th L. Drags on January 8th 1829 in Madras." (Source : Asiatic Journal and Intelligence : June 1829 : [p.759] ). Sir George Garrett was a member of the Garrett family of Portsmouth brewers.