Location
On the west wall of the former foyer at the west end of the nave.


Memorial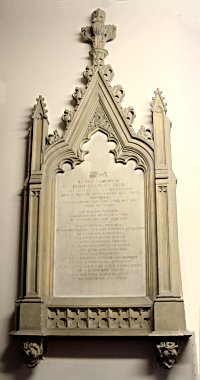 West Window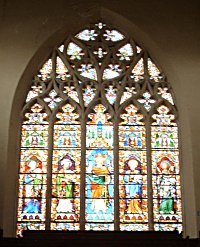 Transcription
SACRED
TO THE MEMORY OF
JOHN CHARLES SELBY
LATE OF HIGH STREET PORTSMOUTH
AND OF NORTH GROVE HOUSE ?????
SOUTHSEA
WHO DEPARTED THIS LIFE JUNE 14TH 1854
AGED 60 YEARS
HIS MORTAL REMAINS
ARE DEPOSITED BENEATH A TOMB
IN PORTSMOUTH NEW CEMETERY
AS A PERPETUAL MEMORIAL
TO HIS UNCEASING LOVE AND DEVOTED AFFECTION
AS A SON AND A BROTHER
AS A TRIBUTE TO HIS WORTH
AS A NEVER-FAILING FRIEND
AND TO HIS NOBLENESS OF HEART
TO THE POOR AND AFFLICTED
ALSO AS A TESTIMONY
OF WELL MERITED ESTEEM AND RESPECT
FOR HIS UNDEVIATING INTEGRITY
AS AN HONOURABLE MAN AND A GOOD CITIZEN
THIS WINDOW AND TABLET
ARE ERECTED TO HIS MEMORY
BY HIS DISCONSOLATE SISTER

Further Information
The west window is a vast work, dominating that end of the church. Unfortunately, some 20 years after the church was consecrated it became necessary to install additional seating and this was achieved by the erection of a balcony which now almost completely obscures the lower half of the window. Some of it however can still be seen in the foyer adjacent to the Selby memorial.

The obituary of John Charles Selby appeared in the Hampshire Telegraph on 17th June 1854, quoting the "inexpressable grief" of his sister Jane Selby. On the High Street of the 1840s there was a high class Naval and Military outfitters operating at No. 49 under the name of Selby. It is known that by the 1861 census the business was run by Jane Selby who was then aged 64. As the plaque inscription above makes no mention of spouse or children it seems that John Selby was unmarried and that on his death the only person available to take over the reins of the business may have been his sister Jane, who was of a comparable age.

North Grove House is a large well appointed house on Grove Road North which would in the 1850s have made an ideal retirement place for a wealthy and successful Portsmouth businessman.

The plaque mentions that Selby was buried in the "New" Portsmouth Cemetery, which could only refer to Highland Road Cemetery as Mile End was opened in 1830 and Kingston in 1856. Unfortunately records show that the first interment at Highland Road took place on 7th November 1854 making a burial there in June 1854 problematic.