Location
In the stair well on the north side of the nave. This area was formerly the Clergy Vestry.


Memorial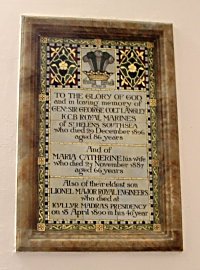 Transcription
TO THE GLORY OF GOD
and in loving memory of
GEN SIR GEORGE COLT LANGLEY
KCB ROYAL MARINES
of St HELENS SOUTHSEA
who died 29 december 1896
AGED 86 YEARS

and of
MARIA CATHERINE his wife
who died 25 november 1887
aged 66 years

Also of their eldest son
LIONEL, MAJOR ROYAL ENGINEERS
who died at
KVLLVR MADRAS PRESIDENCY
on 18 April 1890 in his 40th year


Further Information
George Colt Langley was born 1810, in Bristol. He married Frances Louisa Halliday at Alverstoke 1842 (she was born in 1806 at Ham Lodge, Surrey and died in 1846 at Portsea). In 1848 he married Maria Catherine Penrice in Norfolk. Their children were Lionel (born 1850), George (born 21/12/1851, died 29/1/1852), Emma Catherine (born 1852, married 1893), Mary Georgina (born 1856 London) and John Penrice (born 1860). The 1881 census showed that Emma (29) and Georgina (25) were still living at home.

"St. Helen's" was a house in Queen's Crescent.