Location
In the north east corner of the former chancel.


Memorial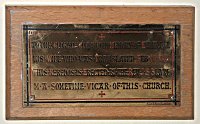 Transcription
TO THE GLORY OF GOD AND IN MEMORY OF EMMELINE
HIS WIFE WHO WAS TRANSLATED FEB 19 1876
THIS REREDOS IS ERECTED BY THE REV. J.S. BLAKE
M.A. SOMETIME VICAR OF THIS CHURCH

Further Information

There is another memorial to Emmeline at the foot of the pulpit.
The Rev JS Blake served as the second vicar at St Judes from 1869 to 1909.
There is a plaque to JS Blake and a memorial chair in his name elsewhere in this church.
The reredos is no longer in situ.