Location
On the north wall of the nave, close to the chancel.


Memorial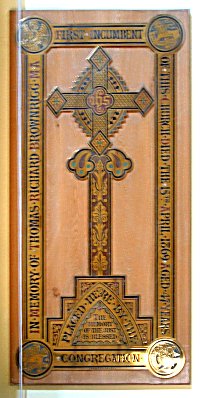 Transcription
IN MEMORY OF THOMAS RICHARD BROWNRIGG M.A.
FIRST INCUMBENT
OF THIS CHURCH. DIED 15TH APRIL 1869
PLACED HERE BY THE CONGREGATION


Further Information

The Reverend Thomas Richard Brownrigg began his career as a curate at St. John's in Portsea, later moving to St. Paul's in Southsea and then to Steep near Petersfield. At this point he married Louisa Anne Owen, daughter of Thomas Ellis Owen, the patron and builder of St. Judes. It was probably this connection that caused him to be appointed at the early age of 31 years to become the first vicar of St. Judes. He remained at St Jude's from 1851 to his death in 1869.

There is a memorial to Louisa Anne in St. Judes. Both she and Brownrigg are buried in a family plot in Highland Road Cemetery.