Location
On the south wall of the nave, at the eastern end.


Description
This memorial is in very poor condition and is only partially legible. The inscription is taken from the 1873 guide.


Memorial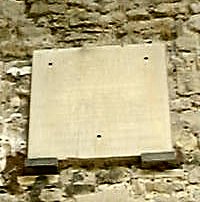 Portrait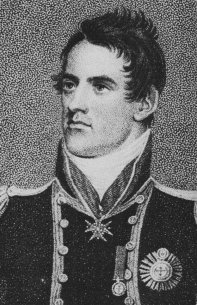 Inscription
NEAR THIS SPOT REPOSE THE MORTAL REMAINS OF
SIR JAMES LUCAS YEO
CAPTAIN IN THE ROYAL NAVY, KNIGHT COMMANDER OF THE BATH,
KNIGHT COMMANDER OF ST. BENTO OF AVIS, WHO DIED
ON THE 21ST AUGUST 1818 IN THE 37TH YEAR OF HIS AGE
IT WAS THE ENVIABLE FORTUNE OF THIS ABLE OFFICER
LIVING IN TIMES OF HIGH ENTERPRISE
TO MEET WITH OPPORTUNITIES OF DISTINCTION
OF WHICH HE NOBLY AVAILED HIMSELF
ADDING ESSENTIALLY TO THE NATIONAL RENOWN
AND BY HIS PERSONAL PROWESS WINNING FOR HIMSELF
AN IMPERISHABLE NAME IN THE ANNALS OF HIS COUNTRY
THIS TABLET IS ERECTED TO HIS MEMORY
BY HIS BROTHER OFFICERS AND PERSONAL FRIENDS

Further Information

Sir James Lucas Yeo, British naval officer, born in Southampton, England, in 1782; died off the coast of Africa in 1819. He entered the navy at an early age under Admiral Cosby. In 1797 he was promoted lieutenant, and assigned to "La Loire," under Captain Frederick L. Maitland. While off the Spanish coast he was sent to capture the enemy's vessels in the port of El Muros. Storming the fort, he succeeded in bringing out of the port every vessel, armed and unarmed. For this achievement he was made commander, and given the "Confiance", one of the vessels he had taken.

In 1809 he captured Cayenne, in conjunction with the Portuguese, and was in consequence made post-captain, and received from the Prince Regent of Portugal, a knight's commandery of St. Benito d'Avis, being the only Protestant ever so honored. Sir James was placed in command of the British naval forces on Lake Ontario, and on 27 May, 1813, appeared off Sackett's Harbor, New York, on the "Wolf", twenty-four guns, with a squadron of five war-vessels, and about forty bateaux, containing 1,200 troops under command of Sir George Prevost.

In May, 1814, he again sailed out of Kingston harbor with an effective force of cruising-vessels, and 1,000 troops under General Sir George Gordon Drummond. The capture of Oswego was the first fruits of the expedition. Subsequently he was blockaded for six weeks in Kingston harbour by Captain Isaac Chauncey, of the American navy, who had previously defeated him and his squadron in York bay.

On 15 October Sir James once more sailed, on board the "St. Lawrence", pierced for 112 guns, and carrying over a thousand men, accompanied by four ships, two brigs, and a schooner, and henceforth was "Lord of the Lake." He did not deem it prudent, however, to attack Captain Chauncey, who had retired to Sackett's Harbor, where a force of 6,000 men had been gathered. The lake being closed soon afterward by ice, no further hostilities followed, as the treaty of peace was signed in the following December. After the return of Sir James to England he was ordered to duty off the west coast of Africa. His health having been already impaired by arduous service, he was unable to withstand the climate, and died while on the voyage home.