Location
At the English Heritage store, Fort Brockhurst, Gosport [EH Ref No. 87900143]. According to the church ledger the plaque was originally sited on the west wall of the nave, to the north of the west door.


Description
The memorial is made of metal and is very dirty. The text is mostly legible.


Memorial
Grave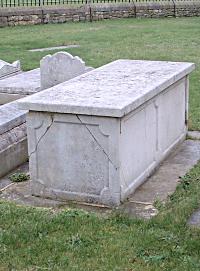 Inscription
IN MEMORY OF TOWN MAJOR HENRY WHITE OF PORTSMOUTH
AND FORMALLY OF THE 74TH. HIGHLANDERS
WHO DIED 23RD. MARCH 1849 AGE 69
AFTER MUCH ACTIVE SERVICE IN THE WARS OF HOLLAND
AND THE PENINSULA WHERE HE WAS FOUR TIMES SEVERELY
WOUNDED. HE WAS 25 YEARS TOWN MAJOR OF THIS GARRISON.
GREATLY HONOURED AND ESTEEMED.
ALSO IN MEMORY OF JEAN HIS WIFE
WHO DIED AT DURHAM 14TH. JANUARY 1870 AGED 90 YEARS.
THIS TABLET IS DEDICATED BY THEIR AFFECTIONATE SON
LT COLONEL GEORGE FRANCIS WHITE,
LATE OF THE 31ST. REGT.

Further Information

The Royal Garrison Church ledger records that Major White is actually buried in the grounds. His gravemarker has been identified (see photo) but it by no means clear that this stands above his grave. It is known that during the restoration of the church, c1866, the graveyard was 'cleaned up' and it seems likely that the grave stones may have been moved. The inscription on the grave marker is now almost illegible, though the name of White is still apparent. The ledger however records the full text, as follows:-


TO THE MEMORY OF
HENRY WHITE Esq.
Captain and Town Major of
Portsmouth
who died the 23rd March 1849
Aged 68 Years
after a long and honourable career
of 38 years, jealously devoted to his
Country, on Active Service in various
parts of the world, having been in
18 actions, 5 times wounded, and for
23 years Town Major of this Garrison
esteemed and respected by all.
Also
In Memory of JEAN, his beloved wife
who died at Durham, 14th Jan 1870 on
Aged 90 Years, and is interred there.
Also
To the Memory of
Lieut. FREDERICK JOHN WHITE
of the Royal Marine Corps
4th Son of the above, who died
4th Oct 1834. Aged 39 Years.
chiefly from the effects of Active Service
in various parts of the globe.
Also
To the memory of
Lieut. HENRY HUGH WHITE, of the
Ceylon Rifle Regt. eldest son of
the above, who died at sea
Dec 18th 1835
from the effects of the climate
Aged 21 Years.
Also
To the Memory of
Lieut. CHARLES WHITE, of the
13th Regt of Light Infantry
who likewise died at sea on
returning from the East Indies, from
the effects of the climate of that country
on the 16th April 1834. Aged 25 Years.