Location
The plaque is midway along the north (left) wall of the chancel.


Memorial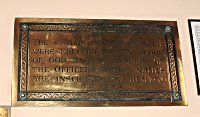 Inscription
THE STALLS IN THIS CHANCEL
WERE ERECTED TO THE GLORY
OF GOD AND MEMORY OF
THE OFFICERS WHOSE NAMES
ARE INSCRIBED ON THEM
A.D. 1872.


Further Information

The stalls referred to are the Choir Stalls (see below). The date on the plaque is slightly odd in that some of the plaques attached to the stalls refer to dates after 1872.