Location
There are two plaques associated with this window, which is the central one of the three in the south wall of the Chancel. The Campbell plaque is immediately below the current window which replaced the original that was lost in 1941. The Youens plaque is situated below the window opening.


Original Plaque

Modern Window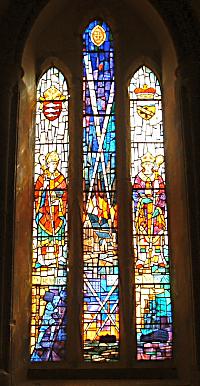 Modern Plaque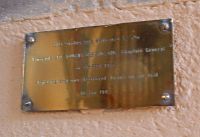 Inscription (To Original Window)
TO THE GLORY OF GOD AND IN MEMORY OF COLIN FREDERICK CAMPBELL MAJOR IN THE 46TH (SOUTH DEVON) REGT AND COLONEL IN THE ARMY WHO DIED AT SIMLA ON 14TH SEPTEMBER 1868 AGED 44 YEARS. THIS WINDOW IS GIVEN BY THE OFFICERS OF THE REGIMENT AS A MARK OF THEIR KINDLY FEELING AND RESPECT

Inscription (To New Window)
THIS WINDOW WAS DEDICATED BY THE
VENERABLE J.R.YOUENS O.B.E.,M.C.,G.H.C., CHAPLAIN GENERAL
ON 7th FEBRUARY 1967
REPLACING THE ONE DESTROYED DURING AN AIR RAID
IN JAN 1941.


Further Information

Colonel Campbell joined the 46th Foot on 1st May 1840. He embarked with the service companies for the CRimea on the 12th October 1854, and served at the seige of Sebastopol from that date to the conclusion of the war. When employed as Assistant Engineer, he was wounded in the trenches on 28th July 1855. He received the Crimean Medal and clasp, the Turkish medal, the Sardinian War medal, the French decoration of Knight of the Legion of Honour, and the 5th class of the Medjidhe. Colonel Campbell was an officer of distinguished bravery and worth, noted for his cool daring and high professional attainments. His early death in the very prime of life was a loss to the service generally.
[Extract from the 1873 Guide to the Garrison Church]