Location
There are two plaques associated with this window, which is the most easterly of the three in the south wall of the Chancel. The Vesey plaque is immediately below the current window which replaced the original that was lost in 1941. The Youens plaque is situated below the window opening.


Memorial
Modern Window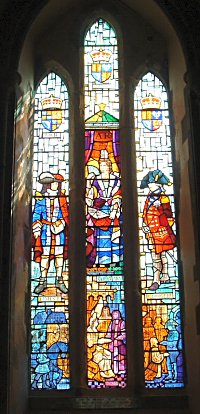 Modern Plaque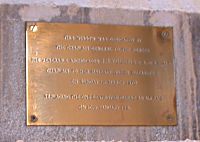 Inscription
TO THE GLORY OF GOD AND IN MEMORY OF ARTHUR GEORGE VESEY COLONEL COMMANDING 46TH (SOUTH DOWN) REGT. WHO DIED AT SUEZ ON HIS RETURN TO ENGLAND OCT 18 1868 AGED 49. THIS WINDOW IS GIVEN BY THE OFFICERS OF THE REGIMENT AS A MARK OF THEIR KINDLY FEELING AND RESPECT

Modern Inscription (On the window)
(LEFT) JAMES II
(CENTRE) QUEEN ANNE
(RIGHT) GEORGE III

Modern Inscriptions (On two plaques)
THIS WINDOW REPLACES
ONE DESTROYED BY
BOMBING 1941.
_____________________

THIS WINDOW WAS DEDICATED BY
THE CHAPLAIN GENERAL TO THE FORCES
THE VENERABLE ARCHDEACON J.R.YOUENS C.B.,O.B.E.,M.C
CHAPLAIN TO HER MAJESTY QUEEN ELIZABETH 11
ON SUNDAY 1st MARCH 1970
REPLACING THE ONE DESTROYED DURING AN AIR RAID
ON 10th JANUARY 1941.


Further Information

Colonel Vesey joined the 46th Regiment on 29th May 1836. He embarked with the service companies for the Crimea on 12th October 1854, and for his services at the seige of Sebastopol, received the Crimean medal and clasp, the Turkish medal and the 5th class of Medjidhe.