Location
At the English Heritage store, Fort Brockhurst, Gosport [EH Ref No. 87900111]


Description
The memorial is made of metal and is in a reasonable condition.


Memorial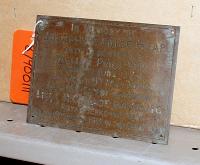 Inscription
IN MEMORY OF JOSEPHINE PRICE HEAP ONLY DAUGHTER
OF WILLIAM PRICE M.D. CINCINATTI OHIO U.S.A.
AT REST 9TH. MAY 1909 ALSO HER ELDEST GRANDSON
LIEUT. R. C. SLADE - BAKER MC. 1ST. ROYAL BERKSHIRE REGT.
KILLED 19TH. AUG 1917 IN THE GREAT WAR.

Further Information

Lt Baker, as he was known to the regiment, is buried at Beuvry Communal Cemetery Extension.

[The following are extracts from the War Diary of the 1st Royal Berkshire Regiment]

15/8/17 - France, Front Line Trenches, CAMBRIN RIGHT
Weather very fine. Lieut R C S BAKER MC and No 16153 Pte BARNES carried out two valuable daylight reconnaisances of the enemy line, crossing HOGS BACK craters from posts L6 and L9. At 11.30pm D Special Coy RE successfully projected 10 tons of lethal gas on FOSSE 8 and other targets. Enemy's retaliation feeble. Casualties NIL.

16/8/17 - France, Front Line Trenches, CAMBRIN RIGHT
Weather very bright and fine. Lt BAKER with Pte Barnes and 37618 Pte Harris carried out another daring daylight patrol, entering the German lines at MAD POINT and bringing back useful information. At 11.45 pm the 46th Divn on our Right bombarded the enemy lines with Thermite, supported by artillery. Casualties 1 OR killed and 2 wounded by an enemy "pineapple" in L6 post.

17/8/17 - France, Front Line Trenches, CAMBRIN RIGHT
Weather fine. Visibility exceptionally good. Lieut BAKER, with 2/Lieut A W DOLBY, Cpl A HAINGE and Ptes COLLINS and BARNES completed his daylight reconnaisance of the enemy lines, entering the German trenches at G.5.c.2.4 and working South for 200 yds, also investigating the crater and trenches at G.5.c.3.7. A quiet day. Casualties nil.

19/8/17 - France, Front Line Trenches, CAMBRIN RIGHT
Weather fine and warm. About 6 pm Lieut R C S BAKER MC was killed by an enemy sniper whilst observing from L19 post.

MILITARY CROSS

London Gazette No. 29824 page 7 published 14/11/1916.

'For conspicuous gallantry in action. He led raids against the enemy on several occasions with great skill and determination. He has done fine work throughout.'

Memorial

Lt. Slade-Baker's name also appears on the Great War Memorials outside Portsmouth Cathedral and St Judes Church.

Personal Details

Robert Cunynghame Slade-Baker, Lieutenant, Royal Berkshire Regiment died on 19/08/1917 and is buried at Beuvry Communal Cemetery Extension, Pas De Calais. Robert was the son of Brig. Gen. Arthur Slade Baker and Caroline Fisher his wife, of Peans Wood, Robertsbridge, Sussex. It is known that Robert's father was living in Southsea when Robert's brother Arthur applied to join Marlborough College and that Mrs Slade-Baker was living at Broadlands, Grove Road (South) Southsea around November 1917 when she was collecting "Chintz bags for the wounded" - to hold the treasures/letters/pay book/photos etc of the wounded so they could be kept together and transported with them when they were moved to other hospitals. Stephen Pomeroy's website provides evidence that Broadlands was actually No. 7 Grove Road South, Southsea. The Parish Magazine also recognises Mrs Slade-Baker who was packing parcels for Prisoners of War at the Soldiers Institute and also helped at the church arranging flowers etc.