Location
On the South wall of the nave.


Description
The memorial appears to be made of soft stone and has suffered considerably from weathering. Much of the lettering is illegible.


Memorial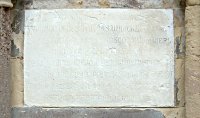 Inscription
IN LOVING MEMORY OF
FRANCIS JAMES THOMAS UNIACKE SIMPSON,
2ND LIEUTENANT 2ND ROYAL SCOTS FUSILIERS.
BELOVED AND ONLY SON
OF THE LATE MAJOR GEN. J M T SIMPSON
WHO WAS KILLED AT PIETERíS HILL, S. AFRICA
IN THE RELIEF OF LADYSMITH, FEB 27 1900
AGED 20 YEARS AND 3 MONTHS.
Further Information

The text on this memorial is partly illegible. It is thanks to David McNay, who drew our attention to a book entitled "For remembrance and in honour of those who lost their lives in the South African War 1899-1902" by Sir James Gildea. This book was written around 1906 and is a survey of many Boer War memorials in the country. It contains a complete transcription of the text which we have reprinted above.