Location
At the English Heritage store, Fort Brockhurst, Gosport [EH Ref No. 87900142]


Description
The memorial is made of metal and though very dirty remains legible.


Memorial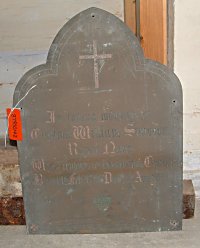 Grave stone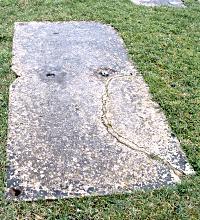 Inscription
IN LOVING MEMORY OF
CAPTAIN WILLIAM SIMPSON
ROYAL NAVY
WHOSE REMAINS REST
INSIDE THIS CHURCH
BORN 19TH FEBY. 1790
DIED 28TH AUGST. 1838

Further Information

The Royal Garrison Church ledger confirms that Captain Simpson is actually buried in the grounds. His gravemarker has been identified (see photo) but it by no means clear that this lies above his grave. It is known that during the restoration of the church, c1866, the graveyard was 'cleaned up' and it seems likely that the grave stones may have been moved. The inscription on the grave marker is now illegible. The ledger however records the full text, as follows:-


Beneath this Stone
are deposited the remains of
Captain WILLIAM SIMPSON
Royal Navy
who died 28th August 1838. Aged 49.