Location
On the South wall of the nave.


Description
The memorial appears to be made of marble and suffered considerably during the bombing of the church in 1941. Several pieces of shrapnel have penetrated the plaque, one partially obliterating the name. Some of the other text is illegible.


Memorial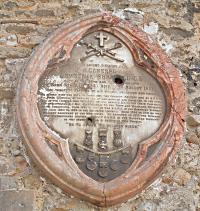 Inscription (From the church ledger)
IN LOVING MEMORY OF
GENERAL
LAWRENCE SHADWELL C.B.
LATE OF THE 98th AND 19th REGIMENTS
BORN 6TH JULY 1823: DIED 16TH AUGUST 1887
THIS TABLET IS ERECTED BY HIS WIDOW, RELATIVES AND FRIENDS
HE SERVED WITH THE 98TH IN CHINA AND THE PUNJAB 1841-1851 AND AS A.D.C. TO SIR COLIN CAMPBELL AT THE BATTLES OF CHILIANWALA AND GODJERAT. IN THE EARLY DAYS OF THE CRIMEAN WAR 1854-56 HE WAS AGAIN A.D.C. TO SIR COLIN CAMPBELL AND AFTERWARDS A.Q.M.G. SUCCESSIVELY TO THE FIRST AND HIGHLAND DIVISIONS BEFORE SEBASTAPOL. FROM 1857 TO 1861 HE WAS A.Q.M.G. IN THE NORTHERN DISTRICT AND FROM 1864 TO 1866 IN THE SOUTHERN DISTRICT. FROM 1866 TO 1871 HE WAS MILITARY ASSISTANT AT THE WAR OFFICE. HE RECEIVED IN 1874 THE REWARD FOR DISTINGUISHED SERVICE. WHILST A.Q.M.G. IN THE SOUTHERN DISTRICT. HE WAS INSTRUMENTAL IN RESTORING THIS CHURCH.
"SO HE GIVETH HIS BELOVED SLEEP"

Further Information
Lawrence Shadwell was born on 6th July 1823 and was christened at Ripon Minster on 29th September 1823. He died on 16th August 1887 and is buried in Reading where he was living at the time. Shadwell married Helen Francis Coleridge on 2nd August 1853 at Eton; she was born on 21st June 1829 and died 29th March 1893 at Twyford, Berkshire. She is also buried at Reading.

In the 1881 Census, Lawrence Shadwell is shown as having been born at Old Windsor, Berkshire when he was a Lieut. General on the Active List. He was living at Southcot Lodge, Reading with his wife and four servants but no children.
(Thanks to Jenny Stringer for the additional material)