Location
The plaque is on the back of one of the choristers stalls in the chancel.
South side, back row, eighth from the west end.


Memorial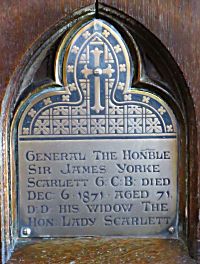 Portrait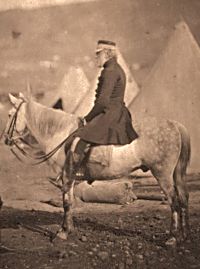 Portrait of Sir James Scarlett
From the Roger Fenton Catalogue
The Library of Congress
Rep.No. LC-USZC4-9303


Inscription
GENERAL THE HONBLE.
SIR JAMES YORKE
SCARLETT G.C.B. DIED
DEC 6 1871 AGE 71.
DD: HIS WIDOW THE
HON. LADY SCARLETT.

Further Information (From the 1873 Guide to the Church)

Lieut-General Scarlett served the Eastern campaign of 1854-55 in command of the Heavy Cavalry Brigade, and afterwards of the Cavalry Division; greatly distinguished himself at the battle of Balaklava, also at Inkerman and the Tehernya, and the seige and fall of Sebastopol. Medal with three clasps, K.C.B., Commander of the Legion of Honour, Sardinia and Turkish Medal and 2nd class of the Medjidhe, was afterwards Adjutant General and while in command of the troops at Aldershot Camp was created G.C.B.

See Wikipedia for an account of the Battle of Balaklava and a short biography

General Sir James Yorke Scarlett, following his tenure as Governor of Portsmouth from 1857-1860, presented a drinking fountain to the people of Portsmouth. The Scarlett Fountain was sited at the end of Pier Road but has now been lost.