Location
This memorial plaque was originally sited on one of the benches in the nave. For many years it was believed lost but the plaque is now (2008) in the possession of the Friends of the Garrison Church (see below).


Memorial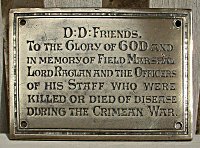 Inscription
D.D. FRIENDS
TO THE GLORY OF GOD AND IN LOVING MEMORY OF
FIELD MARSHALL LORD RAGLAN AND THE
OFFICERS OF HIS STAFF, WHO WERE KILLED OR DIED OF DISEASE DURING THE CRIMEAN WAR.



Further Information
This plaque was believed lost for many years following the Second World War until it surfaced in 2008 when Brian Read wrote to this site saying he had this plaque and another (to Major Breton) and wished to return them to the church. See the page on Major Breton for further information.