Location
On the South wall of the nave.


Description
The memorial appears to be made of plaster and has suffered considerable weathering. Some of the text is barely legible. Attempts have been made to improve the legibility.


Memorial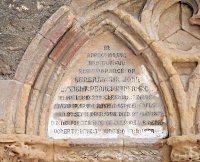 Portrait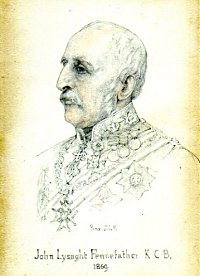 In The Crimea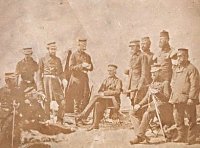 Inscription
IN
AFFECTIONATE
AND DUTIFUL
REMEMBRANCE OF
GENERAL SIR JOHN
LYSAGHT PENNEFATHER G.C.
COLONEL H.M. 22ND CHESHIRE REGIMENT
GOVERNOR OF THE ROYAL HOSPITAL CHELSEA
BORN 9TH SEPTEMBER 1798: DIED 9TH MAY 1872
DD: HIS FORMER AIDE-DE-CAMP MAJOR HENRY
DOHERTY: LATE 3RD KINGS OWN HUSSARS



Further Information

John Lysaght Pennefather was born (in 1800, according to Army records) the third son of Rev John Pennefather of County Tipperary and was descended from Richard Pennefather of New Park, Cashel in Co. Tipperary and the Hon. Mary Lysaght daughter of John Lord Lisle and Catterive, daughter of Lord Chief Justice Baron Deane of the Court of the Exchequer, Ireland and Grand-daughter of Henry, Earl of Shannon. He married Katherine, eldest daughter of John Carr, of Mountrath, Queen's County in 1834. He died in 1872 and is buried in Brompton Cemetery.

His Army career began in January 1818 when he joined the 7th Dragoon Guards as Cornet. He was promoted to Lieutenant in 1823 and to Major in 1831. Immediately prior to the Crimean War he was appointed Major General in the Cheshire Regiment, having command of the 1st Brigade of the 2nd Division (under Sir De Lacy Evans). He took part in the battles of the Alma and Inkerman and took over from Evans when he fell ill during the latter. His command of the 2nd Division was confirmed in December 1854. He was invalided home in July 1856 and later served in Malta and as Colonel of the 22nd at Aldershot. He was appointed Governor of Chelsea Hospital in 1870.