Location
The plaque is high on the south (right) wall of the Chancel, near the entrance.


Memorial
Memorial (Acre)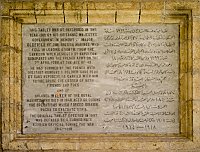 Inscription
SACRED TO THE MEMORY OF
Major THOMAS OLDFIELD
OF THE MARINES
WHO FROM EARLY YOUTH DISTINGUISHED HIMSELF
UNDER SEVERAL COMMANDERS AND ESPECIALLY
IN AMERICA UNDER LORD CORNWALLIS
UNTIL
HONOURED EVENLY BY HIS ENEMIES IN WHOSE FRONT HE FELL HE SACRIFICED THAT
LIFE WHICH HE HAD SO OFTEN HAZARDED IN THE SERVICE OF
HIS COUNTRY
AT THE SEIGE OF AGRE IN SYRIA
APRIL VII AD. MDCCXCIX
AET XLIII
THIS MONUMENT
WAS ERECTED AS A TESTIMONY
OF SINCERE AFFECTION AND GRATITUDE
BY THE WIDOW AND SON OF
Lieutenant JOHN NICHOLLS OLDFIELD
OF THE MARINES
THE LOVING AND BELOVED BROTHER OF THE ABOVE
WHO DIED APRIL IX, AD., MDCCXCIII.
AET XLII
AND WAS INTERRED AT
ALVERSTOKE.

Further Information
Major Oldfield lost his life in an action that effectively prevented Napoleon marching on from Egypt overland to India. He had arrived at St. Jean d'Acre as part of a squadron led by Sir Sidney Smith which managed to capture the French seige train before it had even been embarked.

Major Oldfield led a party of Marines attempting to secure a French mine, but Oldfield fell close to the entrance and what followed can only be described as bizarre. Both the marines and their French counterparts grabbed hold of the Major's clothing by hooks and tried to pull him. The Marines lost their grip and the French dragged the corpse away and although they gave him a decent funeral they kept his sword.

It is said that such was the importance of the event that Napoleon himself recalled it when being sent into exile.

There is a memorial plaque to Major Oldfield near the site of the action at Akko (formerly Acre). The transcription is written in both English and Arabic and is as follows:-

"THIS TABLET WAS RE-INSCRIBED IN THE YEAR 1919 BY HIS BRITANNIC MAJESTY'S GOVERNMENT IN MEMORY OF MAJOR OLDFIELD OF THE BRITISH MARINES, WHO FELL IN LEADING A SORTIE FROM THE GARRISON WHEN BESIEGED BY NAPOLEAN BONAPARTE AND THE FRENCH ARMY ON 7TH APRIL 1789 AT THE AGE OF 43.
HE WAS BURRIED (sic) BY THE FRENCH WITH MILITARY HONOURS A SOLDIER SANS PEUR ET SANS REPROCHE HE CARRIED WITH HIM TO THE GRAVE THE ESTEEM OF BOTH FRIENDS AND FOES.
.......
THE ORIGINAL TABLET ERECTED IN 1907 WAS DEFACED BY A SUBORDINATE TURKISH OFFICIAL DURING THE WAR 1914-1918"

The photograph (see lower, left) is reproduced courtesy of the photographer Oded Shimshon. The information having been supplied by Griff Everett to whom we offer thanks.