Location
At the English Heritage store, Fort Brockhurst, Gosport [EH Ref No. 83100126]. The Memorial was originally sited at the east end of the north aisle in the nave. The exact position is not as yet known.


Description
The memorial is extremely dirty and only partially legible. The transcription is entirely in Latin.


Memorial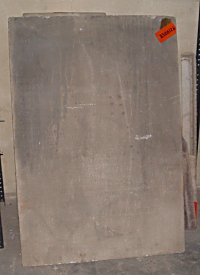 Inscription (Translation from the 1873 Guide to the Church)
STAY YOUR STEP, THOU MORTAL, AND LEARN THE VIRTUE OF HIM WHOM THIS URN CONTAINS, AND, TAKING FOR YOUR LEADER ONE WHO IN MORALS, DUTY, HEART AND PIOUS LOVE, FOLLOWED JUSTICE, HIS KING, HIS COUNTRY AND CHRIST, LEARN TO DIE.

HERE LIES DANIEL O'CONNOR (COMMONLY CALLED CORNELIUS), SPRUNG FROM THE ANCIENT AND ILLUSTRIOUS RACE OF THE O'CONNORS, OF THE PROVINCE OF MUNSTER, IN IRELAND; WHO, FOR A PERIOD OF TEN YEARS, AS CAPTAIN OF THE HORSE GUARD, FAITHFULLY, PRUDENTLY, AND GALLANTLY SERVED OUR MOST SERENE SOVEREIGNS CHARLES 1 OF PIOUS MEMORY AND CHARLES 11, THRICE MOST GREAT AND GLORIOUS, NOW HAPPILY REIGNING. MOST PRUDENT IN COUNCIL, MOST EXPERT IN WAR, MOST GENTLE IN PEACE, HE STOOD, HE CONQUERED, HE LIVED, NEITHER ELATED IN PROSPERITY NOR DEJECTED IN ADVERSITY; SO THAT YOU MAY DESERVEDLY SAY, THAT HE LIVED NEITHER BOASTFULLY NOR TIMIDLY. IN A WORD, HE WAS A DEVOTED PATRIOT, THE WARMEST OF FRIENDS AND EVER A FATHER TO THE POOR, ONE ADORNED IN A REMARKABLE MANNER WITH SINGULAR PATIENCE, VIGILANCE, AND SOBRIETY. HE MARRIED DAME ANNA WHALEY, A WOMAN OF EMINENT MODESTY, PIETY AND CHARITY, OF THE PARISH OF ST MARY MAGDALENE, LONDON; BY WHOM HE HAD NO FAMILY, AND WITH WHOM HE LIVED IN PERFECT CONCORD FOR A PERIOD OF TEN YEARS. THE BURDEN OF THIS MORTALITY HAVING ALAS! BENN LAID ASIDE, HE QUIETLY, PIOUSLY, AND RELIGIOUSLY CHANGED LIFE FOR DEATH IN THE XIVTH YEAR OF THE REIGN OF CHARLES 11, AND OF OUR REDEMPTION 1662, ON THE 10TH SEPTEMBER, AGED 45.
GO, TRAVELLER, AND TELL BY THE DEATH OF THIS MAN, HOW THE LIFE OF OTHER MORTALS SHOULD BE SPENT.