Location
The plaque is on the back of one of the choristers stalls in the chancel.
North side, front row, eighth from the west end.


Memorial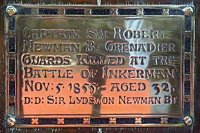 Inscription
CAPT SIR ROBERT
NEWMAN BT. GRENADIER
GUARDS KILLED AT THE
BATTLE OF INKERMAN
NOV 5 1855 AGE 32.
DD: SIR LYDSTON NEWMAN BT.

Further Information

Captain Newman was born at "Sandridge" 19th February 1821 and was baptised in Stoke Gabriel church 18th March 1821. He was the eldest son of Sir Robert William Newman who bought Mamhead House and estate near Starcross in Devon, from the Earl of Lisburne in 1823. This house became the family seat. In 1841 Captain Newman became a student at Trinity College, Cambridge. Later he was commissioned in the Grenadier Guards. His father, Sir Robert died on the 24th January 1848 and was succeeded by his eldest son, who became the 2nd Baronet Mamhead.

Captain Newman served in the Crimea where he saw service at Alma and was killed at the Battle of Inkermann, while bravely leading his company against a Russian Column. He is buried on Cathcart's Hill in the Crimea, near Sebastopol, in a chest grave. His memorial is carved in slate on top of his grave and reads:

"Beneath this stone lie the mortal remains of Sir Robert Lydston Newman, of Mamhead in the County of Devon, England. Baronet Captain in the Grenadier Guards who was killed at the Battle of Inkermann on the 5th of November 1854 in the thirty fourth year of his age. St Luke XII 4,5 St Matthew XXIV 44" This memorial was erected by his surviving brothers and sisters.

His brother Lydston Newman inherited the baronetcy and dedicated this plaque to Captain Newman.