Location
The plaque is on the back wall on the north (left) side of the church by the altar behind the lectern.


Memorial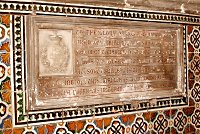 Inscription
TO THE GLORY OF GOD AND IN MEMORY OF
FREDERICK HIBBART NELSON CAPTAIN XL
REGIMENT WHO DIED AT DUM DUM EAST
INDIES 3rd DECEMBER 1879 AND WAS BURIED
AT SOUTHSEA 6th FEBRUARY 1880.
THE TILING OF THIS WALL HAS BEEN DEDICATED BY
HIS BROTHER OFFICERS IN TOKEN OF THEIR LOVE & ESTEEM.