Location
The plaque is on the back of one of the choristers stalls in the chancel.
North side, back row, eighth from the west end.


Memorial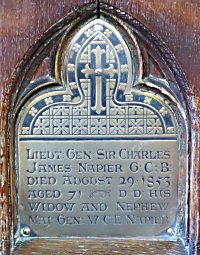 The Napier Tomb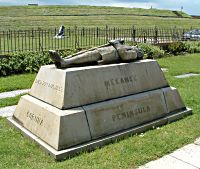 Burial Plaque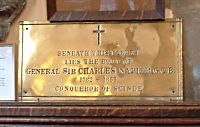 Inscription
LIEUT. GEN. SIR CHARLES
JAMES NAPIER G.C.B.
DIED AUG 29 1853
AGE 71 DD: HIS
WIDOW AND NEPHEW
MAJ.GEN. W.C.E.NAPIER.

Further Information

Sir Charles Napier was the eldest of three Napier brothers who were known in the Peninsular War as "Wellington's Colonels". Before he was twelve Charles received a commission in the 22nd foot. His first service was in the Irish rebellion, 1798, and in the insurrection 1803. Commanded the 50th throughout the campaign terminating with the battle of Corunna, when he was taken prisoner after receiving five wounds, viz., leg broken by a musket shot, sabre cut on the head, in the back by a bayonet, ribs broken by a cannon shot and several severe contusions from the butt end of a musket - returned to the Peninsular the latter part of 1809, where he remained until 1811, and was present at the action of Coa (he had two horses shot from under him), battle of Busaco (shot through the face, also jaw broken and eye injured), battle of Fuentes d'Onor, second siege of Badajoz and a great number of skirmishes. In 1813 he served in a floating expedition, on the coast of the United States of North America; served also the campaign of 1815 and was present at the storming of Cambray.

Commanded the force employed in Scinde, and on 17th February, with only 2800 British troops, he attacked and defeated, after a desparate action of three hours duration, 22000 of the enemy strongly posted at Meeanee. On the 21st February, Hydrabad surrendered to him, and on the 24th March, with 5000 men he attacked and signally defeated 20,000 of the enemy posted in a very strong and difficult position at Dubba, near Hydrabad, thus completing the entire subjugation of Scinde.

Early in 1815, with a force consisting of about 5000 men of all arms, he took the field against the mountain and desert tribes, situated at the right bank of the Indus to the North of Skihapore, and after an arduous campaign, he effected the total destruction of the hill robbers.

He was in due time Commander-in-Chief of the army in India. Sir Charles received the Gold Medal for Corunna, and the silver war medal with two clasps for Busaco and Fuentes d'Onor. He was G.C.B. and Colonel of the 22nd Foot. He was the first English General who ever recorded in his despatches the names of private soldiers. Never lived a truer soldier than Charles James Napier.
[From the 1873 Guide to the Church]

The tomb of Sir Charles Napier is immediately outside the west door to the church (see photo). There is some evidence to suggest that this was moved during the restoration of the church c1870 when the west wall of the nave was rebuilt some 5 metres further west. A loose plaque in the church (see photo) is thought to have indicated the burial place of Sir Charles, inside what is now the west wall.

For a further description of the actions in Scinde see:-
www.postcolonialweb.org/india/history/colonial/napier.html, or
www.victorianweb.org/history/empire/napier.html

A statue of General Napier occupies one of the plinths in Trafalgar Square.

General Charles Napier should not be confused with the Admiral of the same name who was his contemporary. Coincidentally, both of them had been in the Peninsular at the same time. For further information about the Admiral, see his memorial in Victoria Park.

See also
Wikipedia