Location
At the English Heritage store, Fort Brockhurst, Gosport [EH Ref No. 87900144]


Description
The memorial is made of metal, very dirty and is severely damaged in two places. In one instance an explosion has occurred behind the plaque forcing the metal edges forward - plainly this couldn't have happened if the plaque had been on a stone wall at the time. The text is mostly legible.


Memorial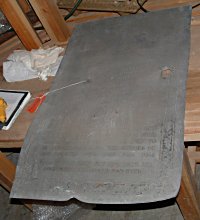 Inscription
IN MEMORY OF MORICE BEY, MAJOR JAMES ANDERSON MORICE,
LATE ROYAL MARINES WHO FELL IN THE FIRST BATTLE OF
EL TEB FEBRUARY 4TH. 1884. THERE IS NOTHING TO REDEEM
THIS TRAGIC RETROSPECT EXCEPT THE CONDUCT OF THOSE
WHO UPBORE FOR US ON THAT GHASTLY DAY THE CREDIT OF
BRITISH VALOUR. HE WAS THE SOUL OF HONOUR AND THE
EMBODIMENT OF COURAGE.
THIS TABLET IS ERECTED BY BROTHER OFFICERS
AND FRIENDS IN ENGLAND IN DEEP SORROW AND IN
RECOGNITION OF ACTS OF DEVOTION AND COURAGE WHICH
WILL CAUSE THE NAME OF MORICE BEY TO BE AMONGST THE
HEROES OF OUR COUNTRY.
A GOOD LIFE HAS BUT FEW DAYS
BUT A GOOD NAME ENDURETH FOREVER.



Further Information

James Anderson Morice was born in 1834 at the Royal Victualling Yard, Deptford, the fourth son of Commander George Farquhar Morice, RN, who was the commander of the Royal Yacht for King William 1V and Master of the Docks and Ports at Deptford. His mother was Charlotte Warden born Cupar Augus Scotland. He married Amy Baxter nee Galloway with whom he had a son, Gordon Farquhar Morice. One of James's brothers was Sir George Morice (Pasha, Vice Admiral) who was an officer in the Egyptian Navy.

James entered the Royal Marine Infantry in 1853 and by 1861 had attained the rank of Lieutenant and retired with the rank of Major. He subsequently went to Eygpt where he was appointed Inspector-General of the coastguard in Alexandria. During the Egyptian campaign he was attached to General Wolsey's staff as the Khedive's aide-de-camp.
[information from James's Great Great Niece Cath Mansfield]