Location
The plaque is on the back of one of the choristers stalls in the chancel.
South side, back row, fourth from the west end.


Memorial
Portrait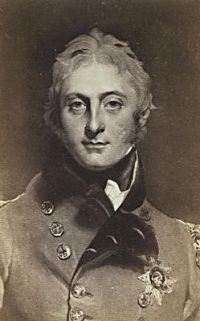 A Thomas Annan photograph of a portrait
of Sir John Moore by Sir Thomas Lawrence.
Mitchell Library Glasgow,
GC 920.041435 COR


Inscription
LIEUT GENERAL SIR
JOHN MOORE K.C.B.
KILLED AT CORUNNA
JAN 16 1809 AGE 47
DD:LIEUT GENERAL
VISCOUNT TEMPLETOWN K.C.B.

Further Information

General Moore entered the army when he was only 15, and served with destinction in Corsica, as Colonel; in the West Indies as Brigadier-General; in Ireland during the rebellion of 1798, and in the expedition to Holland as a General of Staff. He was in Egypt with the army under Abercromby, and obtained the Order of the Bath for his services in command of the reserve. When war again broke out in 1802, Moore served in Sicily and Sweden. In 1808 he was sent with a corps of 10,000 men to strengthen the English army in the Peninsula, and at the close of that year was instructed to co-operate with the Spaniards. The apathy of the Spaniards and the overwhelming numbers of the French compelled him to retreat after the fall of Madrid.

In December he began his disastrous march from Astorga to Corunna, some 250 miles. On his arrival at Corunna with an army worn by hardships, he was compelled to fight. On the 16th January 1809, the battle was fought. While leading the 42nd Regiment in a brilliant charge he was struck by a cannonball on the left shoulder and died in the moment of victory. A monument was erected to his memory in St Paul's Cathedral.

For a biography of Sir John Moore see Wikipedia