Location
The plaque is on the back of one of the choristers stalls in the chancel.
South side, back row, sixth from the west end.


Memorial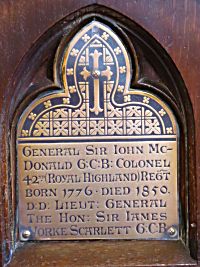 Portrait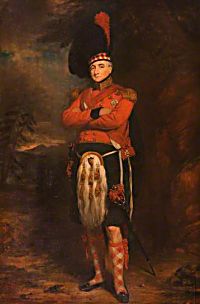 The Black Watch Castle and Museum
Inscription
GENERAL SIR JOHN MC
DONALD G.C.B., COLONEL
42ND (ROYAL HIGHLAND) REGT
BORN 1776 DIED 1850
DD: LIEUT GENERAL
THE HON SIR JAMES
YORKE SCARLETT G.C.B.

Further Information

General McDonald was Colonel Commandant of the 42nd Highlanders (The Black Watch) served with the 89th in Ireland during the rebellion of 1798, and was present at the battles of Ross, Vinegar Hill and other principal actions.
In 1799 and 1800 he was at the siege of La Valetta and capture of Malta. He served in Egypt the three following years, and was present in the action when landing on 8th March, and also in the two other general actions fought on the 13th and 21st March 1801.
In 1807, he was employed as Military Secretary to Lord Cathcart, whilst his Lordship commanded the King's German Legion as a distinct army in Swedish Pomerania, as well as during the subsequent attack upon, and capture of, Copenhagen and the Danish Fleet. In 1806 he served in the Walcheren Expedition and had charge of the Adjutant-General's Department of the reserve commanded by Sir John Hope. The following year he was employed as Deputy Adjutant-General to the force allotted to the defence of Cadiz, under Lieut-General Graham, and was present at the battle of Barossa. In 1813 and 14 he was employed in charge of the left wing of the Peninsula army, and in that capacity was present in the actions upon the Nive and in the affairs which attended the closing of the blockade of Bayonne, and at the action brought on by the general sortie from that fortress. Sir John received a medal for services in Egypt, and the gold medal and one clasp for Barossa and the Nive.
[From the 1873 Guide to the Church]

See Also
Oxford Dictionary of National Biography - (Library Card required)