Location
The plaque is on the back of one of the choristers stalls in the chancel.
North side, front row, seventh from the west end.


Memorial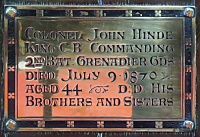 Inscription
COLONEL JOHN HINDE
KING C.B. COMMANDING
2ND BAT GRENADIER GDS
DIED JULY 9 1870
AGE 44. DD: HIS
BROTHERS AND SISTERS.

Further Information (From the 1873 Guide to the Church)

Colonel King served with the 49th Regiment in the Eastern Campaign of 1854-55, including the battles of the Alma and Inkerman, and the seige of Sebastopol; was present at the sortie on the 26th October, capture of the quarries and assault of the Redan on 18th June and 8th September; was severely wounded, left hand amputated. Medal and three clasps, Brevet-Major and Lieut. Colonel, Knight of the Legion of Honour, and C.B.